---
RESERVATION AGREEMENT


By making and completing a reservation for a stay at Heart of the Village Inn ("Property"), I/we acknowledge that I/we have read, understood, and accepted Heart of the Village Inn's Reservation Agreement, Policies, Terms & Conditions, and House Rules in their entirety on behalf of all persons staying with me/us as part of my/our reservation and acknowledge that I/we secured their understanding and acceptance of the same.Booking Policies:
* Reservations must be made online by the actual guests who will be staying at the Property.
* The following reservation details are required to be provided during the booking process or within 1 (one) hour of making a reservation request: names, email addresses and mobile phone numbers of all guests included in a reservation; vehicle details (make/model/color/tag); any additional stay-related details that may be requested by the Property. Reservation requests will be declined if this information is not provided.
* Full prepayment with a valid major credit card is required. Guest contact details must match the cardholder's information.
* Base room/suite rates are charged per night and are based on double occupancy with a 2 (two) night minimum stay. One night stays, if approved by the Property/Innkeepers, carry a +$50 surcharge per night per room. Rates include: (a) overnight stays for the booked time frame in selected rooms along with amenities expressly described on our website; (b) breakfast for guests listed on the reservation; (c) one unassigned off-street parking spot parking for one standard-sized vehicle during nights of the reservation. Rates exclude taxes, fees, and any products or services, whether expected or not explicitly stated.
- King rooms (Shelburne, Van Vliet, Barstow, Bostwick, Fletcher, Webb) and Queen rooms (Tracy and Deyett) have a 2-person maximum occupancy limit.
- Harrington Suite has a 3-person maximum occupancy limit, and there is an additional $100 charge plus taxes & fees for the 3rd guest.
- Barstow Suite has a 4-person maximum occupancy limit, and there is an additional $100 charge plus taxes & fees for the 3rd and 4th guests (each).
- Additional beds/cots/mattresses and/or split beds are not offered.
- Additional guests in excess of occupancy capacity limits are not permitted.
* 3rd party gift cards/certificates/vouchers are not accepted. Guests must contact the property to redeem a Heart of the Village Inn gift card/certificate (must be issued after May 1, 2015).
Breakfast / Food & Drink:
* Breakfast is included as part of each reservation. No other meals, food, and/or drinks are offered. No outside food or drinks whatsoever may be stored, prepared and/or consumed in the Inn's kitchen and/or in the common areas of the property.
* Breakfast is offered in the Breakfast rooms of the Main building between 7:30 am - 9:30 am on an advanced reservation basis. Maximum of 4 guests may be accommodated during each 30-minute seating. Not all seating options may be available during the requested stay dates. Breakfast in bed, in room, or to go is not offered.
* Breakfast is only offered to guests listed on the reservation (not exceeding maximum room occupancy).
* Property's Breakfast Menus are published on the Official Website. Guests with dietary restrictions not accommodated by our published breakfast menu must notify the innkeepers of such restrictions and specific preferred options at the time of making a reservation. Please be advised that we are unable to accommodate extremely unusual, complicated, and expensive diets and/or severe allergies.
* Breakfast selections must be submitted via text, email, or a paper menu when requested by the innkeepers, no later than 24 hours in advance.
Cancellations, Fees & Refunds:
* Cancellation policies and fees are effective once a reservation is booked and apply
regardless
of cancellation reasons.
* If the room(s) listed on a canceled reservation is/are rebooked by a different guest for the canceled dates, cancellation fees listed below will be refunded.
* If a reservation is canceled 31 or more days before the check-in date, a $50 cancellation fee plus taxes is charged for each cancelled date of stay. The remainder of the deposit is refunded to the original payment method on file.
* If a reservation is canceled between 30 and 15 days before the check-in date, a $100 cancellation fee plus taxes is charged for each cancelled date of stay.
* If a reservation is canceled within the 14 day period prior to the arrival date, and the canceled room(s) could not be rebooked, the reservation's room rate(s) and taxes become completely non-refundable. The property will issue the booker a refund for the cleaning/damage deposit only.
* Shortening a reservation constitutes a partial cancellation. Canceled dates fall under the same cancellation policies.
* No-shows are treated as completely non-refundable cancellations.
* If a reservation is canceled by the Property due to Guest's rude communications/actions prior to Guest's arrival, no refund will be issued.
* All guests, bookers, cardholders, and any other persons making a reservation for a stay at the Property are advised to purchase travel protection insurance from a properly licensed commercial insurance product provider.
* An option to reschedule a canceled reservation is not offered.
* A one-time minimum $100 per room
refundable* (Note*: certain refundability restrictions apply) cleanup/damage deposit
is collected at the time of booking. The deposit will be refunded to the original payment method on file on the check-out date provided that: no excessive cleaning of the room was necessary after the Guest's departure; no trash/recycling was left behind; and no property damage was caused by the Guest(s) included in the reservation. An additional fee may be charged by the Property should excessive trash is left behind by guests in their room/suite and on the premises or if any damage is caused by guests to the property. Should additional cleaning, repairs, and/or replacements caused by the Guest(s) make the guestroom and/or any part of the Property not suitable for future rental, additional fees will include replacement and labor costs as well as any lost future revenue. The Guest(s) shall pay the Property all costs and expenses, including attorneys' fee, incurred by the Property in exercising any of its rights and/or remedies hereunder or enforcing any of the terms, conditions, and/or provisions of this Agreement. This Agreement shall be governed by the laws of the State of Vermont.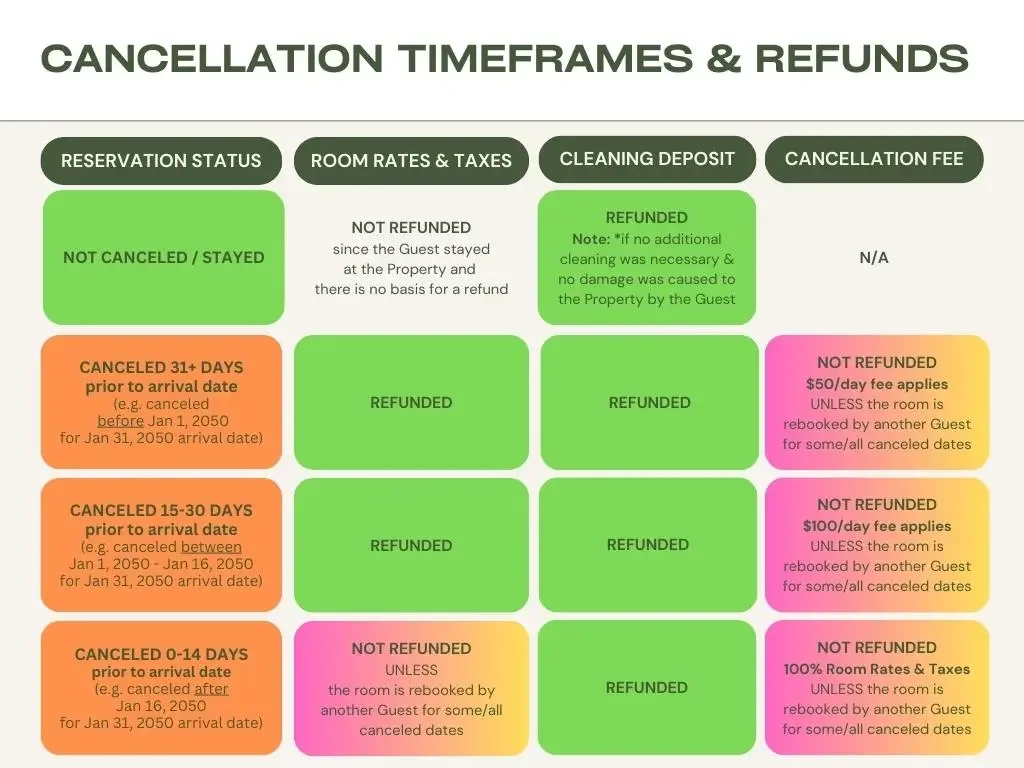 Check-in:
* Only guests listed on the reservation may access the property. No friends, family, or any other individuals not included in the reservation are permitted at the property.
* Self Check-in is the default check-in method. There is no office, front desk, or staff at the Property. Guests may arrive and access their room(s) any time after 3:00 pm EST on their arrival date.
Check-out:
* Our standard check-out time is 11:00 am EST. Express self check-out only. Unauthorized late check-outs will incur a minimum full daily rate.
* Early check-outs are treated as last-minute non-refundable cancellations.
Communication:
* Guests agree to receive property emails and text messages related to their stay.
* Email and text messaging are the preferred communication method.
Housekeeping / Room Service:
* Room service, housekeeping, turn-down service, bed/towel refreshment, etc. are not offered.
* Innkeepers will not be entering guest rooms during their stay. There are extra fresh towels & toiletries in all guests' rooms.
* Guests will be responsible for disposing of trash, recyclables, and used linens on a daily basis. Please refer to the property map for the dumpster/recycling/linen bin locations.
Luggage:
Luggage storage and/or assistance with guests' luggage is not offered.
Minimum age:
All guests staying at the property must be at least 18 years old.
Noise:
The Inn is not responsible for any noise/disturbance caused by other guests or by any external sources.
Outdoor Gear / Restricted Items:
* No outdoor/sports/adventure gear may be stored indoors (common areas, guest rooms, or Inn's private quarters) or attached to the Inn's buildings/property in any way. Such gear and items include but are not limited to: bicycles, kayaks, skis, snowboards, food/beverage coolers, dirty footwear and outerwear. Such gear and items must be kept in guests' vehicles.
* There is an outdoor bike rack for up to 5 bicycles in our parking area. No other bicycle storage options are offered.
Parking:
* One complimentary unassigned standard car-sized parking spot per room/suite.
* Oversized vehicles and any additional vehicles may have to be parked in the Town's safe and secure public parking lot across the street next to the Shelburne Police Station and the Town Offices.
Property (Inn):
* Any items borrowed by guests from the Inn (books, dinnerware, etc.) must be returned by guests prior to check-out.
* Any damage to the Inn's property caused by a guest will be repaired at such guest's expense.
Property (Personal):
* The Property is not responsible for loss of or damage to guests' personal items. Guests are responsible for keeping their vehicle(s) and room(s) securely locked at all times.
* Personal items left behind by guests will be discarded.
Pets, Emotional Support / Companion / Comfort Animals, and Service Animals:
* Absolutely no pets or emotional support/companion/comfort animals of any kind or size are allowed on the Inn's grounds and premises. Guests may not bring/leave animals in a vehicle parked in the Inn's lot.
* Guests traveling with an ADA-compliant service dog individually trained to do work or perform tasks directly related to such guests' disabilities are required to notify the Inn during the booking process. Pets, emotional support, therapy, comfort, or companion animals do not qualify as service animals. Service animals may not be left alone in guestrooms. A service dog handler is expected to control their service animal at all times and observe all handler responsibilities. Handlers who are unable to control their service animals will be directed to leave the Inn immediately.
Property Access / Restricted Areas & Amenities:
* The Inn is a private accommodation only open to guests with valid reservations during the dates of their stay. No other individuals may access the property.
* Certain areas of the Inn are not accessible to guests. Guests do not have access to / may not use the Inn's kitchen, laundry facilities, ironing accessories, basement, storage areas, private quarters. Only the guests staying in the Carriage House may access the Carriage House.
* The Inn's historic buildings do not have elevators and are not wheelchair accessible.
Safety & Security:
* The Property is equipped with digital locks. Registered Guests with valid reservations will be provided a unique access code activated for the duration of their reservation and may not share it with anyone other than their travel companion(s) listed on the reservation. Guests are responsible for keeping their room and property entrances securely locked at all times (including at check-out).
* For safety and security purposes, the Property is equipped with a video monitoring system in outdoor and indoor common areas as any number of different people may be frequently coming and going. Guests hereby consent to being recorded in such areas. Video files will be treated with confidentiality and will be deleted when no longer necessary.
Shoes:
* For historic preservation and general cleanliness reasons, the Inn is a "no-shoes" property (no exceptions).
* Guests are required to remove their street/outdoor shoes upon entering Inn's buildings. Outdoor shoes are not allowed past the foyer / in guest rooms and/or common areas and must be stored in shoe racks in the buildings' foyers. Guests will be provided with a set of slippers for their comfort and for protection of the Inn's floors.
Smoking/Fumes:
* All guestrooms and indoor areas of the property are non-smoking / non-vaping.
* Smoking outside is permitted; guests are responsible for proper outdoor disposal of used smoking products and accessories in the dumpster behind the property.
* No candles, incense, or any other substances may be burned in any indoor areas of the Inn.
* A minimum $500 cleaning fee will be assessed and a reservation will be canceled with no refund should a guest smoke in any indoor areas of the Property.
Trash/Recycling/Composting:
* The Inn is a carry-in/carry-out property. Guests are responsible for depositing trash, recyclables, and compostables in specially designated areas.
* Should trash/recycling be left in the room at check-out, the Innkeepers reserve the right to determine the final cleaning fee amount.
Violations of Policies and Rules:
Should a guest act in an unpleasant/rude/disrespectful and/or otherwise unacceptable manner and/or violate any of Heart of the Village Inn rules and policies accepted as a condition of making a reservation and as part of this Reservation Agreement, a minimum charge in the amount of a $250.00 security deposit will apply; additional fees may be assessed; such guest's reservation may be canceled immediately without a refund, and such guest may be immediately removed and banned from the property.
Website Visitor Consent to Privacy and Cookie Policies, Terms and Conditions:
By visiting and using Heart of the Village Inn website and reservations system, you (Visitor) consent to Heart of the Village Inn's Privacy and Cookie Policies and Terms and Conditions published on the Website.
---