Shelburne Restaurants
Dining Treasures A Short Walk Away
There are several fantastic restaurants within a short walking distance from our Inn in Shelburne, VT, offering craft gourmet fare with a local flair, including gluten-free, vegetarian and vegan friendly dishes. (Check out our blog post about top 9 vegan and vegetarian spots in the area!)
Barkeaters
A popular local lunch and dinner spot (Tue-Sun), offering Adirondack-inspired Northeastern cuisine and an impressive selection of beverages. Sunday brunch and Wednesday Beer'n'Burger Night are always a big hit!
The Bearded Frog
Known for its eclectic American fare, The Frog is located in a historic Inn building and serves creative dinners all seven days a week! Enjoy a Frog Juice (our fave!) or other delightful bevvies at the bar as early as 4:30 pm.
Cucina Antica
This casual family-friendly Mediterranean bistro offers Italian and Greek dishes (pastas, pizzas, mezes, opa!) made with locally sourced ingredients Tue-Sun.
Folinos
A mile-long walk (or a drive, if you insist) is sure to work up an appetite for mouthwatering Neapolutan-style wood fired "apizza" pizzas. This lively counter-served spot is BYOB and provides glasses for your own beer (no Busch, Milwaukee's Best, or Natty Ice, please!), wine, hard cider, or sake (no liquor, and leave shot glasses at home!) Salads and gluten free pizzas are available as well. We have not tasted better pizzas anywhere else in the lower 48 states, and we have tried pizzas just about everywhere! Open 8 days a week (just seeing if you are paying attention).
Rustic Roots
This cozy and warm Chef-owned New American restaurant is a must! Highly unique breakfasts, brunches, lunches (Wed-Sun) and dinners (Fri-Sat) are made from scratch using the finest ingredients. One of the best Bloody Marys we have ever had worldwide!
Coffee, Ice-cream & Deli
For ice cream lovers, The Shelburne Country Store offers mouthwatering maple cremees, and even more ice cream and gelato treats can be found at The Scoop and Gusto Gelato.
Village Wine & Coffee is a lovely local - you guessed it! - wine and coffee spot, and you will find delicious sandwich and deli options at Harrington's.
See all recommended dining options in Shelburne with contact info and directions - enjoy!
Best Eats near Shelburne & Burlington
Incredible Craft Eateries in the Burlington Area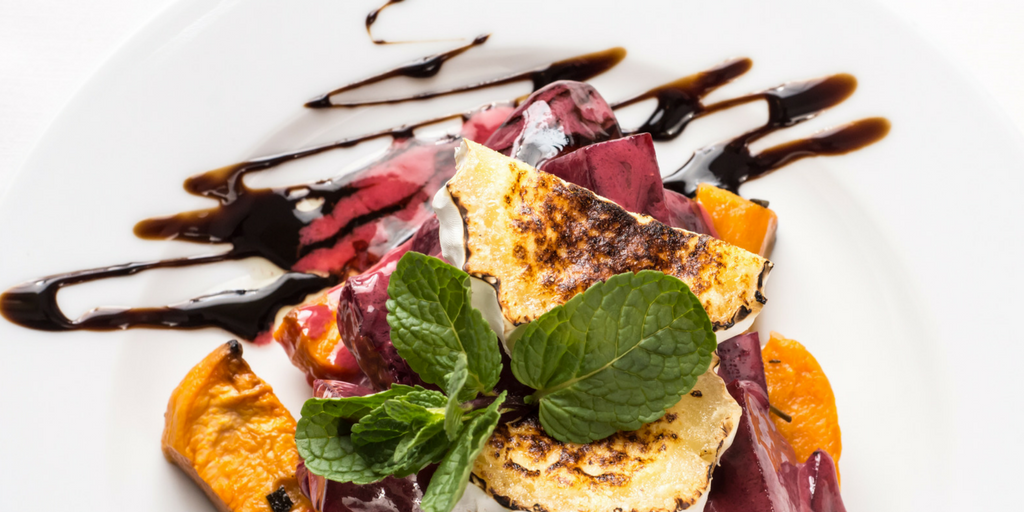 Here at the Heart of the Village Inn, we love watching people enjoy the best of what Shelburne and Burlington have to offer. From cruising on Lake Champlain to strolling down Church Street, there are so many ways to enjoy your stay.
Over the last few years, the Burlington area has attracted visitors for yet another reason: incredible food. The Burlington dining scene has earned a spot one of the hottest in New England. There are so many great options that it can be hard to decide where to go, so we've collected a list of the restaurants that our guests can't stop raving about. From fine dining to $2 taco and Tecate specials, the Burlington restaurant scene has something for everyone.
Below are just some of our own and our guests' favorite area restaurants to help you figure out where to enjoy your meals while you're in town. (Check out our blog post about top 9 vegan and vegetarian spots in the area!)
---
Rustic Roots – Shelburne, VT
Any meal at the Rustic Roots is going to be incredible, but weekend brunch steals the show. People line up out the door for brunch classics, like Eggs Benedict and cinnamon butterscotch French toast. And, if you like Bloody Mary's, the one here comes stacked with veggies, Brie cheese, bacon, and an olive - one of the best Bllody Marys we've ever had! Don't miss their mouth-watering creative dinners (Friday and Saturday nights only!)
Folino's Wood Fired Pizza – Shelburne, VT
This is a no fuss, BYOB shop serving up some seriously good pizza. Start next door at Fiddlehead Brewery and pick up a growler. Then, head into Folino's, order at the counter, and, while your pizza cooks, grab a table, some dishware, and a frosty glass for your beer. You can order off a menu or design your own pizza, but with ingredients as fresh as these, you really can't go wrong.
Tourterelle – New Haven, VT
Situated on a beautiful property with welcoming staff, the atmosphere alone will make you happy you came to Tourterelle. But, then, there's also the excellent food – the restaurant specializes in classic French cuisine. People rave about the bouillabaisse, crepe, and moules frites, in particular. It's not the cheapest meal in the area, but, if you're looking for a very special dining experience, Tourterelle will not disappoint.
Hen of the Wood – Burlington, VT & Waterbury, VT
For farm-to-table fine dining, go to Hen of the Wood. Each dish, from the small plates to the entrees, expertly combines different flavors and textures. Don't leave without trying their signature dish, hen of the wood mushrooms served over toast with bacon and a poached egg. Try to sit at the chefs' bar for the chance to watch them in action. Make reservations about a month in advance because tables here fill up quickly. Oyster lovers - don't miss the oyster happy hour from 4:00 pm to 5:00 pm!
American Flatbread – Burlington, VT
You can always expect a bit of a wait at American Flatbread, but it's well worth it. This place has great food, great beer, and great service. The flatbread pizzas come topped with the freshest local ingredients (with gluten-free options available) and the bar serves a selection of local beers from Zero Gravity.
Guild Tavern – South Burlington, VT
If you're looking for a great steak while in Burlington, look no further. Guild Tavern offers up perfectly-cooked cuts of aged beef that will satisfy anyone, even those who are skittish about meat. The steak tartare appetizer, which comes on a bed of hash brown with capers and raw egg, is a must-try. Plus, the cozy ambiance and attentive staff make for a wonderful steakhouse experience.
Revolution Kitchen – Burlington, VT
Revolution Kitchen makes some of the best vegetarian and vegan food not just in Vermont, but anywhere. They are vegetarian, but can serve most dishes vegan if you request it. All-time favorites include the laksa noodle pot and the stir fry. But, don't forget to save room for dessert! When you taste their vegan cake, you'll be glad you did.
Penny Cluse Café – Burlington, VT
The brunch at Penny Cluse is insanely good. Try the huevos verdes – 2 eggs on flour tortillas with jack cheese, tomatillo-avocado salsa, and black beans. If you're more of a sweet tooth, the gingerbread pancakes are a must. Not a big brunch fan? You're in luck! They start serving lunch dishes as early as 10 AM.
Bistro de Margot – Burlington, VT
The French cuisine at Bistro de Margot is some of the best in the area. The menu changes based on what's available, but you can always expect to enjoy classics, like escargot and moules frites. People can't stop raving about the fish dishes here, so you can't go wrong with a seafood order. Plus, they've got a kids' menu that serves an entrée, side, and choice of dessert for around $12.
Daily Planet – Burlington, VT
The Daily Planet is one of Burlington's most happening spots. They've got delicious, new-age American cuisine and creative, tasty cocktails in an unpretentious atmosphere. If you're in town on a Tuesday, you can't do much better than Tijuana Tuesdays at the Planet, when you can get $2 tacos, $2 bottles of Tecate, and $2 tequila shots.
ArtsRiot – Burlington, VT
ArtsRiot is more than just a restaurant – it's a cultural hub for food, drink, art, and music. Their menu, which changes often, includes favorites like popcorn chicken and the 400 burger, and provides a selection of fun, creative food at a reasonable price. They've got a great space where they host awesome events, from drag cabaret to trivia night to elementary school poetry readings.
Prohibition Pig – Waterbury, VT
When trendy, hip, classy, and chill collide and live happily ever after. This brewstaurant will tantalize your taste buds and your imagination with its own craft brews, specialty drinks and a riot of a Southern-inspired menu. Adventurous no-drama foodies surely will find this joint to offer an ultimate Vermont experience - we stumbled upon it on accident back in the day and keep coming back. No reservations, no stress - just show up and let the day take its course.
Misery Loves Company – Winooski, VT
Just a short trip across the river from Burlington sits Misery Loves Company, one of the most creative restaurants in Vermont. Described by a waiter as "trashy meets classy," MLC takes some of your guiltiest food pleasures and makes them with the best ingredients around. Try one of their specialty burgers and sandwiches or the fried chicken.
Get directions and more information for these and other area restaurants.
---
That's it! We hope you found at least one idea here that inspired you - Happy Dining!
Breweries
25 BREWERIES, BREWPUBS & TAPHOUSES TO VISIT NEAR SHELBURNE, VT
Below is a must-visit list of breweries and taphouses near Shelburne and Burlington, VT. In almost no particular order, we give you:
Fiddlehead Brewing, Shelburne
Fiddlehead Brewing Company is located in the town of Shelburne, just 1 mile south of our fun modern Heart of the Village Inn. Matthew Cohen, also known throughout the industry as Matty O, is the owner of Fiddlehead. The flagship beer is the Fiddlehead IPA and it can be found all over Vermont. They also feature several seasonal selections. You can visit the tasting room for free samples and fill up a growler of your favorite to take home.
Magic Hat Brewing Company, South Burlington
Magic Hat Brewing Co. started its brewing journey in 1994 and now, it puts out over 175,000 barrels each year! They have fifteen beers on tap at the Artifactory, as well as some amazing casual dishes such as artisanal cheese plates, Rubens, and a good ol' grilled cheeses that pair perfectly with the brewery's beer. Magic Hat has six year round brews and then a list of ever-changing seasonal beers. You've got to give the Low Key and Electric Peel a try. Sip on one at one of the brewing company's many events of Friday night music series! The brewery offers free guided and self-guided tours every day in the afternoon, except for Mondays. No reservations needed!
Switchback Brewing, Burlington
Switchback Brewing was founded in 2002 and the first pint was served at Ake's Place in Burlington, VT on October 22, 2002. The Switchback Ale and Connector IPA are both year round brews at Switchback and definitely must-tries. The Connector IPA is exclusive to Vermont and named after "The Southern Connector" road that has been debated for over 52 years and would connect the south end of Burlington to Route 7. Don't worry, those aren't the only two choices at Switchback for they also have a long list of rotating specials and limited run beers. Enjoy an outing to the tap room for some snacks (Did someone say free pretzels?), beer, and live music!
Queen City Brewery, Burlington
Queen City Brewery is located in a renovated warehouse in the historically industrial South End of Burlington. The pub has a very comfortable atmosphere and you'll really enjoy your time visiting the tasting room. It opened its doors not so long ago in June 2014. With lagers, ales, specialty beers, are more, you'll have a hard time trying just a few of the Queen City brews. You've got it give the Munich Dunkel lager a go and for the ales, try the Barge Canal Oatmeal Extra Stout. Your taste buds will thank you. One of our faves!
Zero Gravity Craft Brewery, Burlington
You've got your choice with Zero Gravity Craft Brewery as you can venture to Pine Street Brewery and Tasting Room or the Brewpub at American Flatbread. Pine Street is located in the South End and their restaurant, American Flatbread, is where Zero Gravity began in 2004. The restaurant features mouthwatering flatbread, 18 ZG tap brews, and a rotating choice of "cask-conditioned" beers. One of the elements that Zero Gravity takes pride in is their adherence to the classic beer style qualities. They use the best malt and hops, apply unrelenting attention to their technique and recipe, and make sure to mature their beers to full completion.
Burlington Beer Company, Williston
Burlington Beer Company opened in late May 2014 and located in Williston, VT. They give some awesome names to their brews such as their Double IPA, "It's Complicated Being a Wizard" and their Cream Ale, "Strawberry Whale Cake." Come on, now that is hilarious and they taste amazing too! BB Co. has a huge list of places you can taste their beers as well as their own taproom featuring their staples, special brews, snacks, tacos, and sandwiches galore!
Foam Brewers, Burlington
Foam Brewers is just a baby in the brewery world. It started in 2016 and is located in a historic building along the Burlington waterfront. Their tap room offers a rotating selection of beers that vary based on the season. Pair your brew with some fine cheeses and charcuterie or check out the weekly calendar to see what food trucks are coming for a visit. Foam Brewers has fun events such as comedy night and concerts for some entertainment while you sip.
Three Needs Taproom & Brewery, Burlington
Searching for a spot to grab a good slice of pizza and a pint? This is it! Three Needs Taproom & Brewery has a comfortable and fun atmosphere with some pool tables and foosball. Three Needs' first hour of business, starting at 4 PM, is called "Duff Hour" and the beers are $1 until the keg is gone. You can't beat that.
Simple Roots Brewing Co., Burlington
Located in Burlington's North End Ethan Allen Shopping Center right under the clock tower. Simple Roots is also run by a husband and wife team. They opened up in May 2014 and want to provide a fun space to hang out with friends and family while playing cards or other games and sipping on some of their brews. Make sure to try the American Dream, a smooth cream ale, and Labor of Love.
The Vermont Pub & Brewery, Burlington
Here is the grandpa of all the breweries listed so far. The Vermont Pub & Brewery opened in 1988 by Burlington's legendary Greg Noonan. It is a brewpub full of fun eats and great beer. Order the Noonan Nachos or Sweet Potato Fries to complement your pint of Billy Bock. The Dogbite Bitter is also a great one. There's so much history at The Vermont Pub & Brewery and the quality of beer and atmosphere demonstrates that.
The Alchemist, Stowe
The Alchemist is a family-run brewery with a tasting room and visitor center in Stowe, VT, but their brews can be found all over the state. It originally started off its business in 2003 in Waterbury as a sixty-seat brew pub. Today, The Alchemist has two breweries in Vermont. The flagship IPA Heady Topper and Focal Banger are two beers you've got to try on your visit. They also serve several other seasonal beers that rotate throughout the year. The Alchemist is family and dog-friendly so bring the whole clan to enjoy a good time in a lively atmosphere.
Drop-In Brewing Co, Middlebury
In the summer of 2012, Drop-In Brewing Company opened its doors. The owners, Steve Parkes and Christine McKeever-Parkes of Salisburg dreamed of opening up their own brewery one day and Drop-In Brewing Company was the product of that dream. The tasting room serves pints, offers growlers and cans to go, as well as a variety of apparel and merchandise. A fun fact is that the brewing facility also is the home of the American Brewers Guild, the nation's premier brewing school for the craft brewing industry. Drop-In's flagship creation is Sunshine & Hoppiness and another year-round beer is the Heart of Lothian with flavors inspired by Steve's homeland. Some of the occasional brews that will show up time to time are River Song, Gupta's Gleeful, and Dude, Are You OK? Do your best to try as many of these creations as you can. They are so worth it.
Farnham Ale & Lager, South Burlington
Farnham Ale & Lager is a young start-up that began in the fall of 2013. Their mission is to make craft beer accessible to all. The atmosphere is industrial and it gets pretty lively. The Classic Series consists of the "12" - a Hefeweizen, the "27" - a European-style Pilsner, the "35" - a traditional English pub Bitter, and the "64" -an atypical American IPA. The special brews rotate so they are always a surprise.
Foley Brothers Brewing, Brandon
Guess what? Foley Brothers Brewing was actually started by the Foley brothers, Patrick and Daniel. They started their brewing journey in 2012 and realized they needed their sister, Christine, to help out. Their motto is "do it the hard way" because they believe in taking no shortcuts when making their brews. On their website, you can see what's on tap for the week as its always changing. If you get the chance, definitely try the Skeleton Crew IIPA and the Big Bang IPA.
Frost Beer Works, Hinesburg
Follow Frost Beer Works on Facebook to get weekly updates on Taproom Hours and a list of what is currently on tap. They host fun events such as "SIPtember" and more. The atmosphere is very down to earth, so grab a beer, sit back, and relax with some friends for a quality time.
The Growler Garage, Burlington
The Growler Garage is Vermont's first Craft Beer Filling Station. How cool! They offer 24 taps of the best beers from Vermont and from different parts of the world. The Growler Garage has a full-service tasting bar, 1/2 gallon Growlers, 1/4 gallon Howlers, and the 32-ounce Crowler (creative names, huh?). You'll have a blast with the freedom to taste a countless amount of different brews from all over.
Hill Farmstead Brewery, Greensboro Bend
The Hill Farmstead Brewery is the revival and continuation of historic Hill heritage. They have a few different series of beers including the Ancestral Series, Philosophical Series, Single Hop Series, Singular Series, and more. As you can probably guess, the Ancestral Series is named after relatives in the lineage. The Hill Farmstead Brewery has events for new bottle releases and some festivals too. You'll feel like you are taking a step back into time as you sip away at this brewery.
Hired Hand Brewing Co., Vergennes
The Hired Hand Brewing Co.'s logo is awesome and totally depicts what they are all about. They pride themselves on using locally sources ingredients when it comes to both their craft beers and foods. It is known as a casual place with a lively atmosphere. Try the Tractor Pils, Nitro Espresso Milk Stout, and the Citra Galaxy IPA. Your tastebuds will be blown away.
Idletyme Brewing Company, Stowe
Okay, not only is the beer killer at Idletyme Brewing Company, but the food menu is amazing. Pick something to sip on from the Ales or Lagers list and then definitely order some food to complement your choice. The Truffle Mac-N-Cheese is to die for as well as the Autumn Salad, Pub Burger, and Vermont Cheddar Fritters. You will be in heave, promise.
Rock Art Brewery, Morrisville
Who can say no to Kokopelli??? Whether you want to hang out at Rock Art Brewery for a tasting or in the viewing room, the choice is yours. Try some sample flights of the eight select beers on tap. Since the tap list is always changing, no two visits will ever taste the same! You can purchase some brews to bring home and check out the shop for some Rock Art schwag. You've got to try the Vermonster and Grapefruit DIPA. The rest is up to you.
Stone Corral Brewery, Richmond
Stone Corral has got a list of nine staple brews that are their claim to fame. The Wild Red Sour beer is a kicker and the Trailblazer Vermont Lager is also pretty good. Take your time and try as many as possible from their staples list to truly see what Stone Corral is all about. They have a rotating seasonal list as well to take a look at. Order a cheese board, Curried Sweet Potato Wedges, or good ol' Chips & Salsa to have something to munch on.
The Otter Creek, 793 Exchange St, Middlebury
At the Otter Creek Brewing Co., they have a focus on sustainability. There spent hops and yeast are donated to local farmers to use as an alternative fertilizer and the spent grains feed local dairy cows. The Otter Creek is growing leaps and bounds and in 2016 they opened a brand new 120-barrel brew house and added 9,000 square feet to their current space. The have four year-round beers: Backseat Berner IPA, Free Flow IPA, Daily Dose IPA, and Couch Surfer Oatmeal Stout. So good! They also have a list of rotating season and limited time brews too.
Von Trapp Brewery, Stowe
Johannes von Trapp dreamed of starting a brewery in his family's lodge in Stowe, Vermont. That dream became reality in the spring of 2010 when the Von Trapp Brewery officially opened its doors. It started as a modest facility but now it brews around 50,000 gallons of lager each year, featuring both year-round and season brews. You've got to give the Dunkel Lager a go. Its a dark beer with creamy, toffee aromas with a bitterness of Munich malts. You'll be overwhelmed by your choices, but disappointed by none.
The Farmhouse Tap & Grill, Burlington
A relaxed an easy-going farm-to-table gastropub with a seasonal beer garden showcasing burgers and craft brews from Vermont and faraway lands. Making a reservation is recommended.
American Flatbread, Burlington
One of our go-to places - hip, cozy, excellent choice for craft beer and inventive wood-fired pizzas!
Prohibition Pig, Waterbury
We just love this hip joint with about two dozen taps, creative cocktails and Southern-style small plates and BBQ. A must.
---
That's it for now! Get here thirsty and imbibe responsibly!
Ciders, Meads & Ginger Ales
#GETEXCIDERED! OUR FAVE CIDERIES NEAR SHELBURNE, VT
Visitors to our state have so many options when it comes to wineries, distilleries, and breweries, but for a tasting experience that's truly unique to Vermont, visit a cidery! In recent years, cideries have been popping up non-stop, making Vermont the official cider capital of the world (well, as far as we're concerned, anyway). There are plenty of great options for cider tastings in the Shelburne area, so make sure to stop by one (or two or three) of them the next time you visit us. DId you know that cider is naturally gluten-free? Well, now you do. Add mead and ginger beer to that list - and we have an excellent meadery and a ginger beer brewery in the area as well.
Shacksbury Cider (Vergennes, VT)
If you don't think that cider can be as complex or interesting as wine, the team at Shacksbury is about to prove you wrong. They've been making some seriously delicious cider for a while now, and they just opened a tasting room in July of this year. Sample their wide array of ciders, including year-round dry and semi-dry options, as well as seasonal citrus and cider spritzes.
Woodchuck Cider (East Middlebury, VT)
Woodchuck is one of the most famous cideries in the world – and for good reason. Stop into their tasting room for a self-guided tour where you'll learn about the history of the company. Plus, anyone who takes the self-guided tour gets four free samples. If you're still looking to try more, there's also a tasting room where you can sample a bunch of ciders that aren't offered in stores and even build your own six pack to take home.
Citizen Cider (Burlington, VT)
"Get Excidered" and stop by Citizen Cider's massive taproom to enjoy delicious food and a slew of ciders on tap. The best way to get a good sampling is to order a flight of 5 ciders, which will run you $7. Plus, you can order their Cellar ciders, which are only available to try at their tasting room. When you're in the parking lot, make sure to snap a picture with their can-shaped cider tanker truck, which transports their cider from the Happy Valley Orchard in Middlebury straight to the tasting room in Burlington. (GET EXCIDERED is a Trademark of Citizen Cider, LLC)
Stowe Cider (Stowe, VT)
This is the perfect stop after a day of skiing at Stowe. Go ahead and bring the whole family – they've got a big collection of board games (does it get any better than Scrabble and cider?) and, in addition to flights of hard cider, they offer flights of non-alcoholic beverages, as well. Stowe's cider is famously for being on the drier side, so if sweet cider doesn't suit your fancy, you'll love what Stowe has to offer.
Champlain Orchards (Shoreham, VT)
Champlain Orchards is serious about their apples, which makes for delicious hard cider. They recommend getting in touch before visiting their orchard, so send them an email and let them know what you're interested in learning more about so they can plan accordingly. For anyone who doesn't like hard cider, their plum and ginger spiced ciders are also to die for.
Boyden Valley Winery and Spirits (Cambridge, VT)
Visit Boyden Valley and you'll get the chance to sample their ciders, wines, and brand-new apple brandy. $10 gets you 7 samples of any of their delicious beverages, and you get to keep the glass. Once you've got your samples lined up, order a cheese plate and head outside to enjoy the gorgeous view.
Boyer's Orchard (Monkton, VT)
If you were to take everything that's amazing about fall in Vermont and roll it up into one place, you'd get Boyer's Orchard. Boyer's has a farm, orchard, bakery, pumpkin patch, and cider mill. Where else can you can eat delicious cider donuts, sticky buns, and blueberry turnovers while picking apples and pumpkins? Plus, visitors say that Boyer's cider and hard cider are some of the best they've ever had.
Halyard Brewing Co. (South Burlington, VT)
For ginger beer lovers, this is a paradise in a pint glass. All-weather strong ginger beers brewed in the pre-prohibition style with adventure, poetry, intrigue, and happiness. Ginger beer, reinvented.
Groennfell Meadery (Colchester, VT)
Unlike excessively rich, sweet and alcohol-heavy Medieval elixirs, Groennfell's craft meads are supremely drinkable, dry and smooth. They are brewed with honey from a local apiary and and are best enjoyed in a company of friends at the local Mead Hall.
Distilleries
EIGHT FANTASTIC VERMONT DISTILLERIES NEAR SHELBURNE
When traveling to Shelburne, Vermont, plan on touring our state's fantastic distilleries. From the gin geniuses at Stonecutter Spirits to the rye masters at WhistlePig, the distillers of Vermont are churning out some of the finest spirits in the world. Below are some of our favorite distilleries and tasting rooms in the area that you should absolutely pay a visit to next time you're in town.
Wild Hart Distillery (Shelburne, VT)
Wild Hart specializes in making delicious gins and vodkas, and it's our first distillery on this list because it's located right here in Shelburne! It's owned and run by Naomi Clemmons, Craig Stevens, and Master Distiller Joe Buswell. It also just so happens to be celebrating its grand opening on November 11th! If you'll be in town, stop by to enjoy free tastings of their American Dry Gin and their lightly sweetened gin, Sugarfoot. They'll also be revealing a limited edition seasonal spirit (Burning Embers!) that's sure to be delicious.
Elm Brook Distillery (East Fairfield, VT)
There have been plenty of Vermont spirit companies popping up in recent years, but the Elm Brook Farm distillery is one of the few that actually uses Vermont products and distills in Vermont, "Forest to Flask". They offer two spirits: Rail Dog Barrel Aged Maple Spirit and Literary Dog Vodka. Rail Dog Barrel-Aged Maple Spirit, which is made with Vermont maple grown at Elm Brook Farm, tastes like something between cognac and whiskey. Their Literary Dog Vodka is made with maple sap from the farm, and it's a super smooth vodka that's meant to be sipped so that you can savor subtle flavors of toffee, cream, and sweet maple. If you want to visit the distillery for a tour and a free sample, contact them at ebt@elmbrookfarm.com to book an appointment.
Stonecutter Spirits (Middlebury, VT)
Gin fans: don't leave Vermont without a trip to Stonecutter Spirits, which is known for their award-winning Single Barrel Gin. If gin isn't your thing, you can indulge in their wildly smooth Heritage Cask Whiskey. Stonecutter's tasting room and cocktail bar has an awesome vibe. Stop by to snag a free sample of gin, sip on their specialty cocktails, play tabletop shuffle board, and take a peek at the barrel room, where both their spirits are aged in-house.
Appalachian Gap Distillery (Middlebury, VT)
Pay a visit to the tasting room at Appalachian Gap Distillery and you'll likely be served by none other than the distillery's owners themselves. They'll pour you samples and take the time to answer any questions you have about their process. Appalachian Gap's most well-known offering is their Ridgeline Barrel Aged whiskey, but they also make rum, gin, tequila, vodka, and coffee liqueur. But, be warned: their coffee liqueur is so good that, after one sip, you might never be able to stomach Kahlua ever again. The tasting room is open from 1:00-5:00 PM daily.
Mad River Distillers (Waitsfield-Burlington, VT)
Mad River's distillery is based in Waitsfield, but they also have an awesome tasting room in Burlington. If you visit the Burlington tasting room, try their delicious (and adorable) flight of mini cocktails or enjoy a flight of spirits neat. If you make the trip to the distillery in Waitsfield, tours and tastings cost $10 a person, which includes samples. Make sure to book distillery tours at least 24 hours in advance.
Smugglers Notch Distillery (Jeffersonville, VT)
Smuggler's Notch Distillery is run by a father-son team who decided to pull together their talents and start a family distillery. The Smuggler's Notch tasting room is tiny and unassuming, but their spirits definitely pack a punch. You can sample their vodka, hopped gin, gin, wheat whiskey, rum, bourbon, or special reserve whiskey for anywhere between $3 and $20, depending on how thirsty you're feeling. They've also got tasting rooms in Waterbury Center and Burlington.
WhistlePig Whiskey (Shoreham, VT)
WhistlePig founders Raj Bhakta, an entrepreneur who purchased the 200-year-old farm property back in 2007, and Dave Pickerell, former Master Distiller for Maker's Mark, joined forces to make some of the world's finest rye whiskey. They've received recognition and accolades from likes of GQ, The Wall Street Journal, and Wine Enthusiast. Their 500-acre farm has a distillery, tasting room, and event space in a 150-year-old dairy barn. According to their website, the farm is not open for tours or tastings at this time, but you can visit their tasting room in Middlebury to sample their entire line of aged whiskeys.
SILO Distillery (Windsor, VT)
Located in the super cool Artisan Park, the SILO distillery offers free tastings of their gin, vodka, whiskey, and bourbon (a ~$15 value based on prices at other tasting rooms). Their spirits are made right on the premises and the staff is super knowledgeable and friendly. The distillery is housed in a beautiful, well-maintained barn, which makes for an enjoyable ambiance. Plus, SILO is conveniently located right across from the Harpoon Brewery!
The Whiskey Room (Burlington, VT)
While The Whiskey Room is a bar, not a distillery, it makes our list because it might have one of the best whiskey selections in all of Vermont. Chat with the staff, and they'll guide you through their cocktail selection to help you sample a few that you're guaranteed to love. The ambiance is perfect for a couple or a small group, and they serve up some delicious tapas to complement your beverages.
Vineyards & Wineries
VERMONT IS FOR (WINE) LOVERS
Everyone knows that our fine state is a haven for craft breweries – no matter where you turn, you're guaranteed to find great beer. But, fear not, wine lovers of the world! We've got something for you, too. Here in Shelburne and the surrounding areas, there are plenty of local vineyards that you should make sure and check out on your next visit.
Shelburne Vineyard
One of the best vineyards in the area is located right here in Shelburne. Shelburne Vineyard offers a great wine tasting experience on a beautiful property. For $7 you can sample all of their wines, and keep the glass. (Or, if you are staying at our delightful Heart of the Village Inn, your tasting is complimentary - contact us for details!) They also offer wine samplers that come with chocolate and cheese pairings. On a nice day, sit outside and enjoy sweeping views of the vineyard. On grayer days, enjoy your wines inside their gorgeous tasting room. As an added bonus, Folino's, which serves up some of the best pizza in the area (or, perhaps, the world?!), is located just across the street.
Charlotte Village Winery
Venture a bit off the beaten path, and you'll find Charlotte Village. This is a generations-old family-run business specializing in fruity wines, and if you enjoy some sweetness in your vino, make it a point to stop by. Their specialties include wines made from peach, raspberry, strawberry, apple, and blueberry. The blueberry wine is a fan favorite, and it's made from blueberries that they grow themselves. Tastings are free and, if you buy a couple bottles, they may throw you a free glass of wine to enjoy.
Lincoln Peak Vineyard
You're guaranteed to feel at home when you visit Lincoln Peak. Enjoy your wines on their outdoor deck, which overlooks a pond. The staff is incredibly knowledgeable, and they'll treat you like a regular, even if it's your first visit. Roam the vineyard, take a tractor ride, and enjoy a sampling of all their wines for just $5 (plus you get to keep the glass). Cheese, meats, and crackers are available, as well. Don't leave without trying the Cassis, a wine made from the vineyard's very own black currants.
Boyden Valley Winery
Boyden has some of the best wines, ciders, and dessert wines in Vermont. Take a glass of wine and a cheese plate out back if you're looking to enjoy the view. Or, if you'd rather learn about their beverages from some very knowledgeable staff, sit inside the tasting room. For $10, you can enjoy 7 samples and (you guessed it!) keep the glass. Favorites here include the white ice wines and the Glogg, a spiced wine that's served warm. Even if you think it sounds strange, give it a try, and we guarantee you'll want to grab a few bottles to take home.
Snow Farm Vineyard
You can't beat the views at Snow Farm. When you enjoy a glass of wine here, you'll get the chance to marvel at the NY Adirondacks, the Vermont mainland, and Lake Champlain all at the same time. Take a private tour with a member of the staff or take your own "self-guided tour." They'll provide you with a brochure full of information about the production process, and you can walk the length of the vineyard on your own. If you visit in the summer, check out their calendar for summer concerts and events.
Hillis' Sugarbush Farm & Vineyard
Hillis' is nestled just off Route 2, and upon arriving you'll likely be greeted by a friendly poodle named Luna. Judy and Jim, the couple who owns the farm, will give you a tour of the vineyard and the sugar house where they ferment the wine (and make maple syrup in the spring!). As part of their wine flight, you'll get to sample some delicious reds and whites, as well as some premium maple wines. What better wine to sample when you're in Vermont?