January 12, 2018 by: Heart of the Village Inn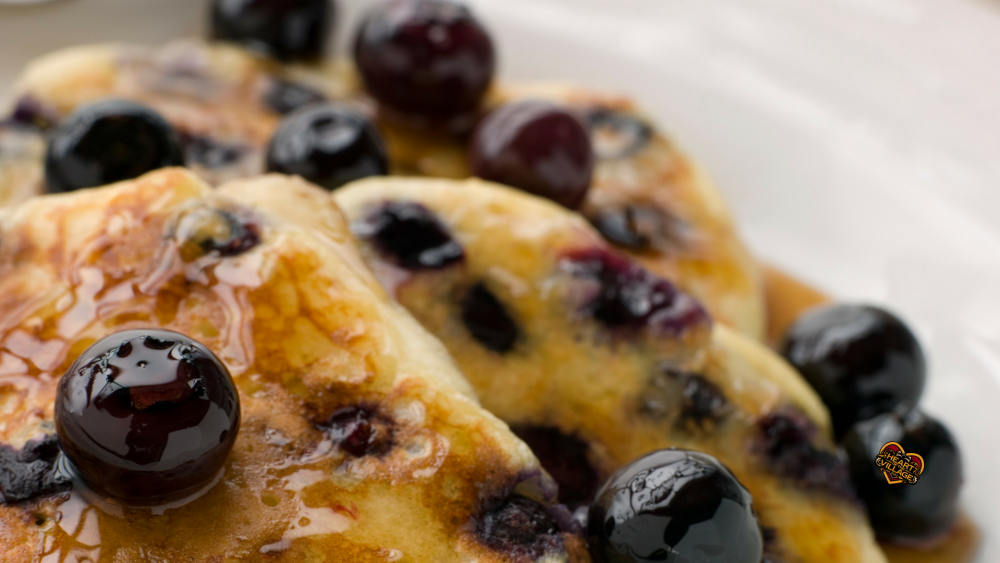 World Famous Buttermilk Blueberry Pancakes à la Heart
"Best Blueberry Pancake's I've ever eaten!", "The pancakes were to die for", "My husband claims he has never had better blueberry pancakes in his life!" - keep raving our happy guests on TripAdvisor!!!
Well, dear Reader, today is your lucky day. Today, you too can enjoy this heavenly buttermilk blueberry goodness. Get excited!
Ingredients (for a small batch of about 4 generously sized pancakes):
1 cup of (ideally) King Arthur flour (because Vermont!). Most other types of flour, including gluten-free, will work in this recipe as well.
1/2 cup of room temperature low-fat buttermilk
2 eggs
2 tbsp vegetable oil
1 tsp baking soda
1 tsp fine salt
1 tbsp maple or confectioner sugar
1 tbsp rapid rise yeast mixed in 1/4 cup of warm water
1/2 pint blueberries
1 stick of unsalted butter
Steps:
Create a liquid base first (and always!) by whisking buttermilk, eggs, vegetable oil, baking soda, salt, sugar, yeast mix in a medium sized bowl.
Slowly whisk in flour - the batter doesn't need to be very smooth, but it shouldn't be lumpy or liquidy. Add either a bit of water if too thick or flour if too thin.
Gently mix in the blueberries.
The batter needs a good hour to rise at room temperature - you should be able to see it rise and bubble.
Heat up a generously sized frying pan or skillet on extremely low flame to melt about half a stick of butter cut up into tablespoon sized slices, then turned it up to medium setting. As soon as butter starts getting ready to dance, place batter on the pan. Keep a very thin wide spatula handy to prevent sticking.
Bathe pancakes in the butter, adding a bit more as needed - you may need to rotate pancakes on the pan so they cook evenly. You are the judge of how well done you like them.
Add more butter when you are ready to flip pancakes to the other side.
Psst! Our pancakes are best enjoyed with Palmer's Real Vermont Maple Syrup - always our own breakfast choice!
---
That's it - enjoy! If you liked this post, we appreciate a Facebook, Twitter, Pinterest, and Google+ share! Sharing is caring - click those buttons to the right, CLICK 'EM! -------->