October 9, 2017 by: Heart of the Village Inn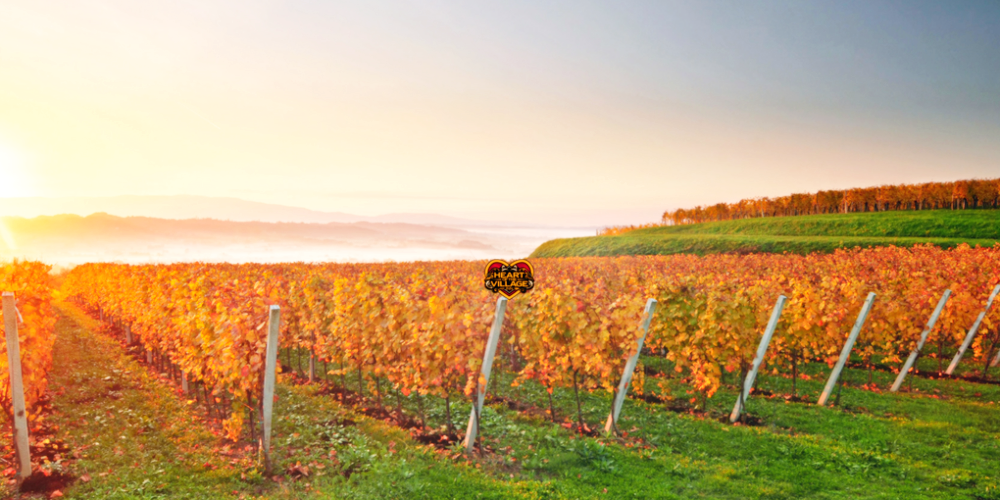 Vermont is for (Wine) Lovers
Everyone knows that our fine state is a haven for craft breweries – no matter where you turn, you're guaranteed to find great beer. But, fear not, wine lovers of the world! We've got something for you, too. Here in Shelburne and the surrounding areas, there are plenty of local vineyards that you should make sure and check out on your next visit.
Shelburne Vineyard
One of the best vineyards in the area is located right here in Shelburne. Shelburne Vineyard offers a great wine tasting experience on a beautiful property. For $7 you can sample all of their wines, and keep the glass. (Or, if you are staying at our delightful Heart of the Village Inn, your tasting is complimentary - contact us for details!) They also offer wine samplers that come with chocolate and cheese pairings. On a nice day, sit outside and enjoy sweeping views of the vineyard. On grayer days, enjoy your wines inside their gorgeous tasting room. As an added bonus, Folino's, which serves up some of the best pizza in the area (or, perhaps, the world?!), is located just across the street.
Charlotte Village Winery
Venture a bit off the beaten path, and you'll find Charlotte Village. This is a generations-old family-run business specializing in fruity wines, and if you enjoy some sweetness in your vino, make it a point to stop by. Their specialties include wines made from peach, raspberry, strawberry, apple, and blueberry. The blueberry wine is a fan favorite, and it's made from blueberries that they grow themselves. Tastings are free and, if you buy a couple bottles, they may throw you a free glass of wine to enjoy.
Lincoln Peak Vineyard
You're guaranteed to feel at home when you visit Lincoln Peak. Enjoy your wines on their outdoor deck, which overlooks a pond. The staff is incredibly knowledgeable, and they'll treat you like a regular, even if it's your first visit. Roam the vineyard, take a tractor ride, and enjoy a sampling of all their wines for just $5 (plus you get to keep the glass). Cheese, meats, and crackers are available, as well. Don't leave without trying the Cassis, a wine made from the vineyard's very own black currants.
Boyden Valley Winery
Boyden has some of the best wines, ciders, and dessert wines in Vermont. Take a glass of wine and a cheese plate out back if you're looking to enjoy the view. Or, if you'd rather learn about their beverages from some very knowledgeable staff, sit inside the tasting room. For $10, you can enjoy 7 samples and (you guessed it!) keep the glass. Favorites here include the white ice wines and the Glogg, a spiced wine that's served warm. Even if you think it sounds strange, give it a try, and we guarantee you'll want to grab a few bottles to take home.
Snow Farm Vineyard
You can't beat the views at Snow Farm. When you enjoy a glass of wine here, you'll get the chance to marvel at the NY Adirondacks, the Vermont mainland, and Lake Champlain all at the same time. Take a private tour with a member of the staff or take your own "self-guided tour." They'll provide you with a brochure full of information about the production process, and you can walk the length of the vineyard on your own. If you visit in the summer, check out their calendar for summer concerts and events.
Hillis' Sugarbush Farm & Vineyard
Hillis' is nestled just off Route 2, and upon arriving you'll likely be greeted by a friendly poodle named Luna. Judy and Jim, the couple who owns the farm, will give you a tour of the vineyard and the sugar house where they ferment the wine (and make maple syrup in the spring!). As part of their wine flight, you'll get to sample some delicious reds and whites, as well as some premium maple wines. What better wine to sample when you're in Vermont?
---
That's it - enjoy! If you liked this post, we appreciate a Facebook, Twitter, Pinterest, and Google+ share! Sharing is caring - click those buttons to the right, CLICK 'EM! -------->
The post Vermont is for (Wine) Lovers appeared first on the Heart of the Village Inn's blog.