September 12, 2017 by: Heart of the Village Inn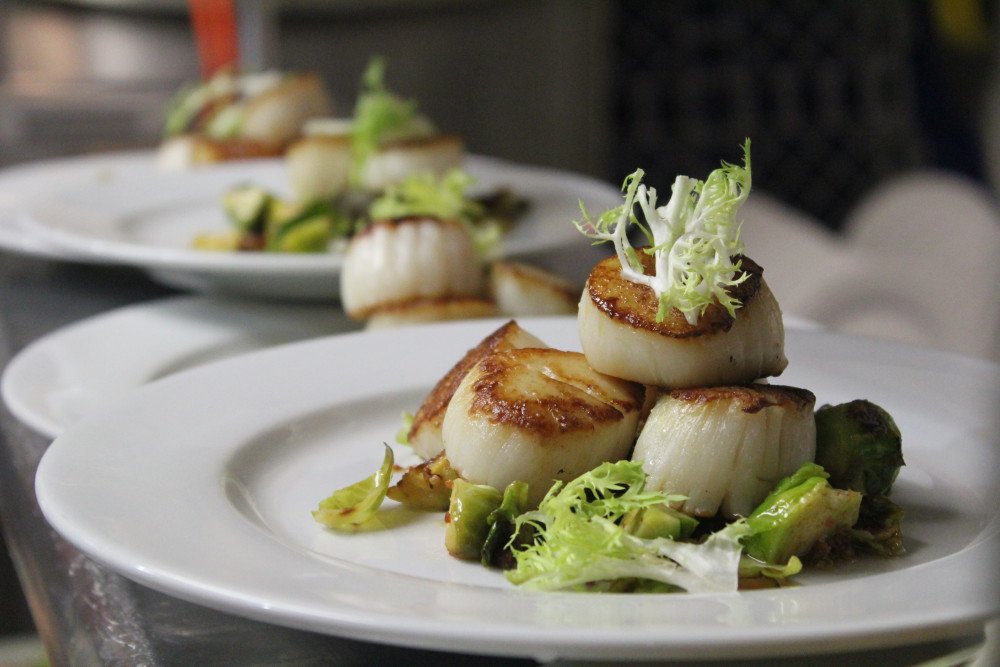 Twelve Incredible Restaurants to Visit Near Burlington, VT
Here at the Heart of the Village Inn, we love watching people enjoy the best of what Burlington has to offer. From cruising on Lake Champlain to strolling down Church Street, there are so many ways to enjoy your stay.
Over the last few years, the Burlington area has attracted visitors for yet another reason: incredible food. The Burlington dining scene has earned a spot one of the hottest in New England. There are so many great options that it can be hard to decide where to go, so we've collected a list of the restaurants that our guests can't stop raving about. From fine dining to $2 taco and Tecate specials, the Burlington restaurant scene has something for everyone.
Below are twelve of our guests' favorite area restaurants to help you figure out where to enjoy your meals while you're in town! (We will cover a vibrant Shelburne scene in a separate blog post.)
---
Rustic Roots – Shelburne, VT
Any meal at the Rustic Roots is going to be incredible, but weekend brunch steals the show. People line up out the door for brunch classics, like Eggs Benedict and cinnamon butterscotch French toast. And, if you like Bloody Mary's, the one here comes stacked with veggies, Brie cheese, bacon, and an olive - one of the best Bllody Marys we've ever had! Don't miss their mouth-watering creative dinners (Friday and Saturday nights only!)
Folino's Wood Fired Pizza – Shelburne, VT
This is a no fuss, BYOB shop serving up some seriously good pizza. Start next door at Fiddlehead Brewery and pick up a growler. Then, head into Folino's, order at the counter, and, while your pizza cooks, grab a table, some dishware, and a frosty glass for your beer. You can order off a menu or design your own pizza, but with ingredients as fresh as these, you really can't go wrong. House classics include the Chic Buff and Veggie pies.
Tourterelle – New Haven, VT
Situated on a beautiful property with welcoming staff, the atmosphere alone will make you happy you came to Tourterelle. But, then, there's also the excellent food – the restaurant specializes in classic French cuisine. People rave about the bouillabaisse, crepe, and moules frites, in particular. It's not the cheapest meal in the area, but, if you're looking for a very special dining experience, Tourterelle will not disappoint.
Hen of the Wood – Burlington, VT & Waterbury, VT
For farm-to-table fine dining, go to Hen of the Wood. Each dish, from the small plates to the entrees, expertly combines different flavors and textures. Don't leave without trying their signature dish, hen of the wood mushrooms served over toast with bacon and a poached egg. Try to sit at the chefs' bar for the chance to watch them in action. Make reservations about a month in advance because tables here fill up quickly. Oyster lovers - don't miss the oyster happy hour from 4:00 pm to 5:00 pm!
American Flatbread – Burlington, VT
You can always expect a bit of a wait at American Flatbread, but it's well worth it. This place has great food, great beer, and great service. The flatbread pizzas come topped with the freshest local ingredients (with gluten-free options available) and the bar serves a selection of local beers from Zero Gravity.
Guild Tavern – South Burlington, VT
If you're looking for a great steak while in Burlington, look no further. Guild Tavern offers up perfectly-cooked cuts of aged beef that will satisfy anyone, even those who are skittish about meat. The steak tartare appetizer, which comes on a bed of hash brown with capers and raw egg, is a must-try. Plus, the cozy ambiance and attentive staff make for a wonderful steakhouse experience.
Revolution Kitchen – Burlington, VT
Revolution Kitchen makes some of the best vegetarian and vegan food not just in Vermont, but anywhere. They are vegetarian, but can serve most dishes vegan if you request it. All-time favorites include the laksa noodle pot and the stir fry. But, don't forget to save room for dessert! When you taste their vegan cake, you'll be glad you did.
Penny Cluse Café – Burlington, VT
The brunch at Penny Cluse is insanely good. Try the huevos verdes – 2 eggs on flour tortillas with jack cheese, tomatillo-avocado salsa, and black beans. If you're more of a sweet tooth, the gingerbread pancakes are a must. Not a big brunch fan? You're in luck! They start serving lunch dishes as early as 10 AM.
Bistro de Margot – Burlington, VT
The French cuisine at Bistro de Margot is some of the best in the area. The menu changes based on what's available, but you can always expect to enjoy classics, like escargot and moules frites. People can't stop raving about the fish dishes here, so you can't go wrong with a seafood order. Plus, they've got a kids' menu that serves an entrée, side, and choice of dessert for around $12.
Daily Planet – Burlington, VT
The Daily Planet is one of Burlington's most happening spots. They've got delicious, new-age American cuisine and creative, tasty cocktails in an unpretentious atmosphere. If you're in town on a Tuesday, you can't do much better than Tijuana Tuesdays at the Planet, when you can get $2 tacos, $2 bottles of Tecate, and $2 tequila shots.
ArtsRiot – Burlington, VT
ArtsRiot is more than just a restaurant – it's a cultural hub for food, drink, art, and music. Their menu, which changes often, includes favorites like popcorn chicken and the 400 burger, and provides a selection of fun, creative food at a reasonable price. They've got a great space where they host awesome events, from drag cabaret to trivia night to elementary school poetry readings.
Misery Loves Company – Winooski, VT
Just a short trip across the river from Burlington sits Misery Loves Company, one of the most creative restaurants in Vermont. Described by a waiter as "trashy meets classy," MLC takes some of your guiltiest food pleasures and makes them with the best ingredients around. Try one of their specialty burgers and sandwiches or the fried chicken.
That's it! We hope you found at least one idea here that inspired you - Happy Dining!
---
The post Twelve Incredible Restaurants to Visit near Burlington, VT appeared first on the Heart of the Village Inn's blog. Photo courtesy of Rustic Roots. If you like the post, we'd appreciate a share on Facebook and Google+! Thank You!
Rose and Anatoly
Innkeepers At Heart & Proprietors
Heart of The Village Inn
5347 Shelburne Rd
Shelburne, VT 05482