February 22, 2018 by: Heart of the Village Inn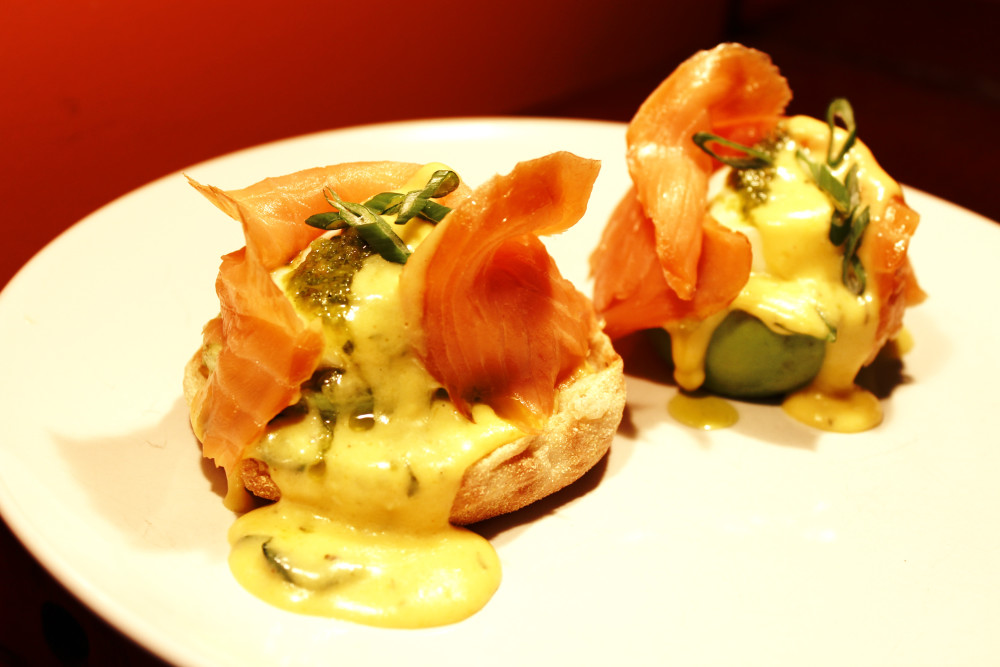 Smoked Salmon Avocado Eggs Benedict with Pesto - Quick & Easy!
We frequently sense a great deal of admiration among our guests when it comes to cooking in general and our breakfasts in particular. Yes, our breakfasts are all that - but there is a little secret we will gladly let you in on. Cooking IS easy. Less is more, and a bit of practice will lead to amazing levels of self-confidence in the kitchen and nothing but compliments at the table.
Today we will debunk the myth that Eggs Benedict are so complicated to make that you can only truly enjoy them at a fine restaurant. That's nothing but BS (Basic Science). All it takes is all you got: one brain, two hands, three cups of coffee, four slices of smoked salmon, five eggs (for one serving), six minutes here and there... We will keep our cooking math in the single digits today.
Ingredients (based on a culinary delight for one happy person, so times two if two happy people are in attendance):
1 ripe avocado
1 English muffin (Can be regular wheat or gluten-free. Optional - for folks with a healthy appetite)
1/2 stick of salted butter
1/2 tsp of Herbes de Provence
1/2 lime
4 thin slices of smoked salmon (we recommend Norwegian!)
5 eggs
1/4 cup of heavy cream
12 leaves of fresh spinach
1/8 cup white vinegar
1 tbsp salt
1 tbsp pesto
black pepper and/or cayenne pepper and/or Old Bay to taste
sliced chives/scallions, to taste
Steps:
In a small sauce pan, melt butter on low heat (2 out of 9). Whisk in freshly squeezed lime juice, pepper, Old Bay and Herbs de Provence (whatever you are in the mood for!)
Remove yolks from three eggs and slowly whisk those in as well. Keep the heat low and keep an eye on the pan and the sauce won't overcook. This is where heavy cream comes in handy. Repeat after us: we are not afraid and we are not watering anything down. No need to freak out about moving it off the heat and then back on and off and on and off and on with shaking hands hoping not to mess it up. Slow and low is the name of the game here. Keep whisking from time to time to keep your whisking skills sharp and the sauce happy. (Egg whites can be discarded or refrigerated for later use - completely unrelated to this recipe.)
Rapidly boil water (4 cups or so) in a deep frying pan or a small pot and reduce the heat to medium. Stir in vinegar and salt.
If using an English muffin, slice it into two half shells and pre-toast.
Cut an avocado into two half shells, remove the pit and carefully scoop the green goodness out with an appropriate sized spoon. Slice off rounded bottoms to make the half shells plate-stable. Thinner avocado slices are recommended for the muffin combo option.
Crack open the remaining two eggs without breaking the yolks and slowly and carefully transfer them in the simmering water for approximately 5 minutes. (Actual cooking time may vary based on the type of the cooking surface.) That's eggs cooked the right way - runny yolks, cooked whites.
In the meantime, mix spinach into the sauce not to get too bored. A watched pot never boils; watched eggs never cook.
Once the eggs are cooked to the desired doneness level, use a slotted spoon/spatula to transfer them onto a separate plate. Life hack: use a fairly small glass to cut off any uneven white parts and to create a perfect egg shape.
Assemble! A toasted muffin half shell, a bit of sauce on top, an avocado half shell, a bit more sauce in the pit pocket, a poached egg, 2 slices of salmon lovingly wrapped around the eggs to create a volcano into which 1/2 tbsp pesto is then placed and more Hollandaise sauce is added to decorate your creation and embiggen its taste. Sprinkle chives/scallions on top and voilà! Nom nom time! Hint: this tastes fantastic with a flute of bubbly.
(The photo shows both versions: with and without an English muffin.)
---
That's it - enjoy! If you liked this post, we appreciate a Facebook, Twitter, Pinterest, and Google+ share! Sharing is caring - click those buttons to the right, CLICK 'EM! -------->