December 7, 2016 by: Heart of the Village Inn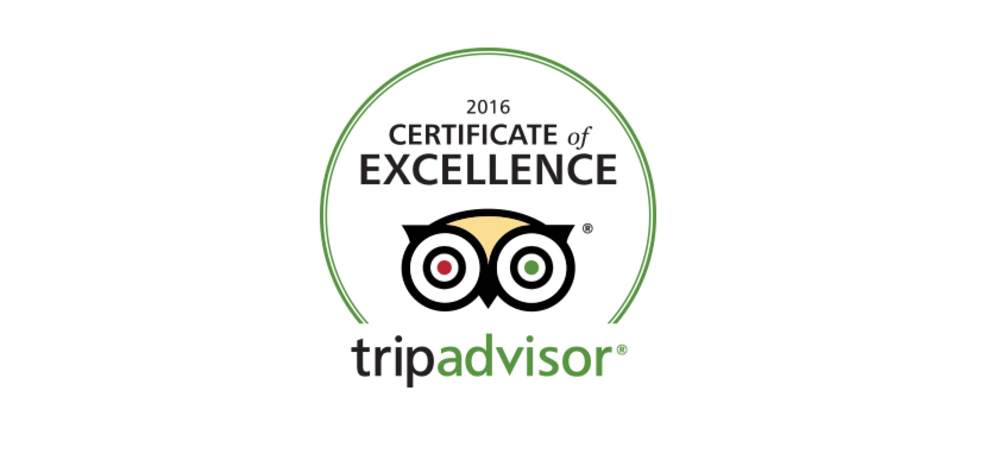 HEART OF THE VILLAGE INN EARNS 2016 TRIPADVISOR CERTIFICATE OF EXCELLENCE
SHELBURNE, VT – December 7, 2016 – Heart of the Village Inn has become a proud recipient of the 2016 TripAdvisor® Certificate of Excellence. Now in its sixth year, the achievement celebrates hospitality businesses that have earned great traveler reviews on TripAdvisor over the past year. Certificate of Excellence recipients include accommodations, eateries and attractions located all over the world that have continually delivered a quality customer experience. For the second consecutive year, Heart of the Village Inn is awarded this certificate since its acquisition by its current owners, Anatoly and Rose Polyakov, in early 2015.
"With the Certificate of Excellence, TripAdvisor honors hospitality businesses that have consistently received strong praise and ratings from travelers," said Heather Leisman, Vice President of Industry Marketing, TripAdvisor. "This recognition helps travelers identify and book properties that regularly deliver great service. TripAdvisor is proud to play this integral role in helping travelers feel more confident in their booking decisions." The Certificate of Excellence accounts for the quality, quantity and recency of reviews submitted by travelers on TripAdvisor over a 12-month period. To qualify, a business must maintain an overall TripAdvisor bubble rating of at least four out of five, have a minimum number of reviews and must have been listed on TripAdvisor for at least 12 months.
Heart of the Village Inn maintains an impressive 5.0 score and is the #1 out of 5 B&Bs/Inns in Shelburne, VT on TripAdvisor.
The Inn is also a GreenPartner in the TripAdvisor® GreenLeaders™ program, which helps travelers around the world plan greener trips by highlighting hotels and B&Bs engaging in environmentally-friendly practices. TripAdvisor GreenLeaders properties have met a set of environmental standards developed for TripAdvisor by a leading environmental consulting firm, with input from expert partners. The more green practices a hotel has in place, the higher its GreenLeader level, which is shown on the property's listing on the TripAdvisor site.
"The TripAdvisor GreenLeaders program recognizes the properties around the world that are committed to environmental sustainability," said Ryan Dillon, manager of responsible travel at TripAdvisor. "We applaud these businesses, from the smallest B&B to the largest hotel chain, for helping to make eco-friendly trips possible for our community of millions of travelers." The TripAdvisor GreenLeaders program was developed in consultation with the United Nations Environment Programme, the U.S. Green Building Council, and ENERGY STAR®, among other leading environmental organizations. For more information, please visit www.tripadvisor.com/GreenLeaders.