March 1, 2018 by: Heart of the Village Inn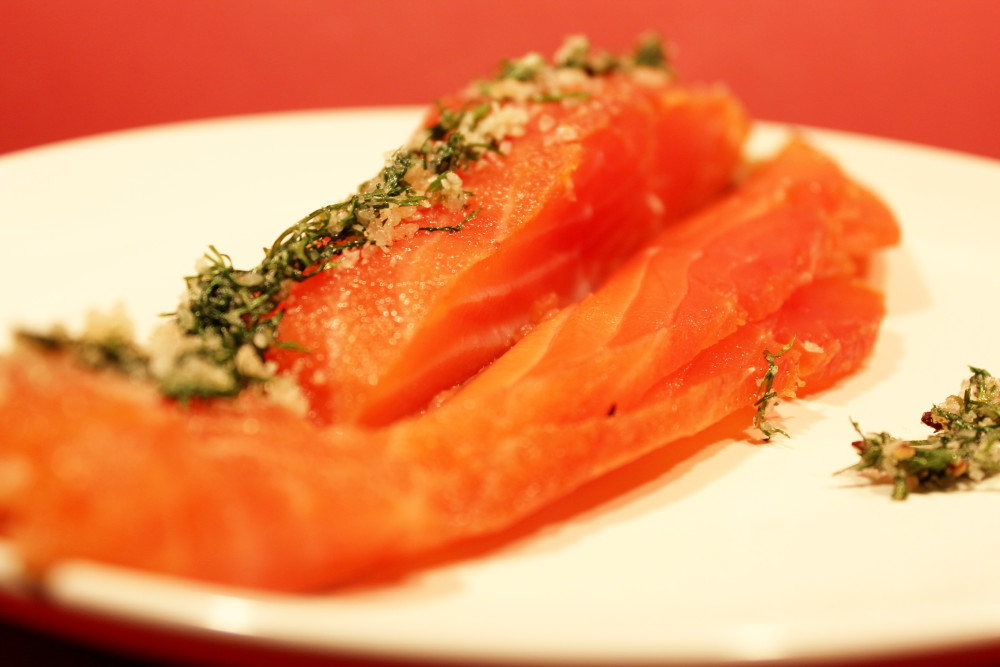 Gravlax Vermont-Style
Are you an adventurous foodie? Because if not, you'll become one with this simple dish. And if you love sushi, you are already ahead of the curve!
This is not smoked salmon. (We are very partial to smoked Norwegian salmon and offer it as part of the Heart of the Village Inn™ Breakfast Menu.) This is a salt-cured version of a popular breakfast dish, and only several ingredients are required, primarily salt and patience. The final result, depending on the cut of fish and you personal preferences, can be either very fatty, somewhat salty and smooth, or savory and firm, salmon-candy style. Gravlax is fantastic on hearty rye bread, crackers, and cucumber slices with a bit of cream cheese or sour cream and fresh scallions.
Ingredients:
2 lbs of thick-slab salmon filet (although we have had excellent results with using very fatty farm-raised salmon, we recommend wild-caught, ideally sushi-grade fish). If the filet is fairly thin, no further action is required. We do recommend cutting the filet into approx. 3-inch strips if the filet is extremely fatty and thick. Do not remove the skin - it will make slicing easier later.
1 cup extra coarse sea salt
1/2 cup maple sugar (because Vermont! - however, raw sugar along with a 1/4 cup of Vermont maple syrup is an acceptable substitute)
1 large bunch of fresh dill - chopped (we also like to add cilantro or parsley into the cure)
2 tsp extra coarse black pepper (feel free to add a tbsp of coarse red pepper flakes)
1 oz. Vermont gin (if you like that vibrant juniper pop) or bourbon or brandy (if you like a sweeter taste)
Steps:
Mix salt, sugar (+ maple syrup, if needed), herbs, pepper, and a distilled beverage of choice - the mixture will remind you of wet sand.
Spread a thin layer of the cure on the bottom of a filet-sized glass or plastic container and place the fillet(s) skin down. Place the rest of the cure on top of the filet.
Cover the container with a lid and into the fridge it goes - let osmosis do its thing for at least 24 hours. You will notice a growing amount of brownish liquid in the container - you are welcome to flip the filet every 12 hours and drain the brine, but these are not required steps.
Depending on the filet type, thickness, and your personal taste and texture preferences, you may be able to enjoy the gravlax in as early as one day. It should be fairly resilient to a finger poke - feel free to make a test incision in the very middle of the filet to make sure it does not appear raw. Thicker cuts take up to 3 days to cure, so be patient and read the rest of our blog for additional culinary inspiration.
Rinse the filet under cold water to remove the cure and slice away - thin slices are the best! The outside edges will always be a bit more firm and flavorful.
Gravlax will keep in the fridge for a good couple of days. We found that if freezes really well, but will taste saltier once defrosted.
Once you have a good idea of the final product's taste, you will be able to fine-tune the ingredient ratios to truly make gravlax yours. We love our Jamaican Jerk and Southwestern salmon candy versions and we love the traditional lightly salted fatty texture and taste, too!
---
That's it - enjoy! If you liked this post, we appreciate a Facebook, Twitter, Pinterest, and Google+ share! Sharing is caring - click those buttons to the right, CLICK 'EM! -------->