December 15, 2017 by: Heart of the Village Inn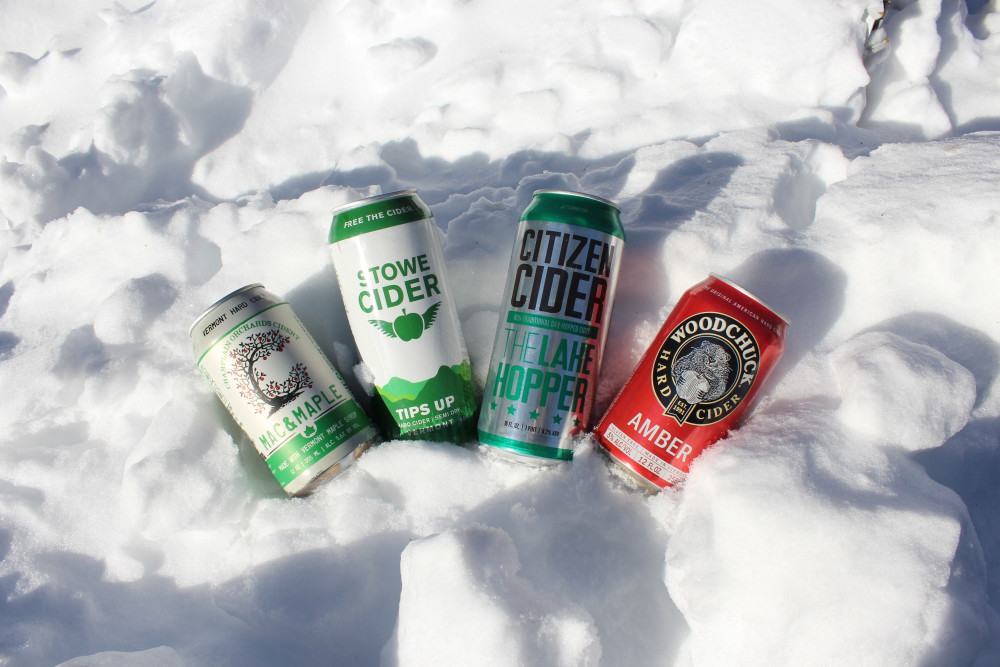 #GETEXCIDERED! Our Fave Cideries Near Shelburne, VT
Visitors to our state have so many options when it comes to wineries, distilleries, and breweries, but for a tasting experience that's truly unique to Vermont, visit a cidery! In recent years, cideries have been popping up non-stop, making Vermont the official cider capital of the world (well, as far as we're concerned, anyway). There are plenty of great options for cider tastings in the Shelburne area, so make sure to stop by one (or two or three) of them the next time you visit us.
Shacksbury Cider (Vergennes, VT)
If you don't think that cider can be as complex or interesting as wine, the team at Shacksbury is about to prove you wrong. They've been making some seriously delicious cider for a while now, and they just opened a tasting room in July of this year. Sample their wide array of ciders, including year-round dry and semi-dry options, as well as seasonal citrus and cider spritzes.
Woodchuck Cider (East Middlebury, VT)
Woodchuck is one of the most famous cideries in the world – and for good reason. Stop into their tasting room for a self-guided tour where you'll learn about the history of the company. Plus, anyone who takes the self-guided tour gets four free samples. If you're still looking to try more, there's also a tasting room where you can sample a bunch of ciders that aren't offered in stores and even build your own six pack to take home.
Citizen Cider (Burlington, VT)
"Get Excidered" and stop by Citizen Cider's massive taproom to enjoy delicious food and a slew of ciders on tap. The best way to get a good sampling is to order a flight of 5 ciders, which will run you $7. Plus, you can order their Cellar ciders, which are only available to try at their tasting room. When you're in the parking lot, make sure to snap a picture with their can-shaped cider tanker truck, which transports their cider from the Happy Valley Orchard in Middlebury straight to the tasting room in Burlington. (GET EXCIDERED is a Trademark of Citizen Cider, LLC)
Stowe Cider (Stowe, VT)
This is the perfect stop after a day of skiing at Stowe. Go ahead and bring the whole family – they've got a big collection of board games (does it get any better than Scrabble and cider?) and, in addition to flights of hard cider, they offer flights of non-alcoholic beverages, as well. Stowe's cider is famously for being on the drier side, so if sweet cider doesn't suit your fancy, you'll love what Stowe has to offer.
Champlain Orchards (Shoreham, VT)
Champlain Orchards is serious about their apples, which makes for delicious hard cider. They recommend getting in touch before visiting their orchard, so send them an email and let them know what you're interested in learning more about so they can plan accordingly. For anyone who doesn't like hard cider, their plum and ginger spiced ciders are also to die for.
Boyden Valley Winery and Spirits (Cambridge, VT)
Visit Boyden Valley and you'll get the chance to sample their ciders, wines, and brand-new apple brandy. $10 gets you 7 samples of any of their delicious beverages, and you get to keep the glass. Once you've got your samples lined up, order a cheese plate and head outside to enjoy the gorgeous view.
Boyer's Orchard (Monkton, VT)
If you were to take everything that's amazing about fall in Vermont and roll it up into one place, you'd get Boyer's Orchard. Boyer's has a farm, orchard, bakery, pumpkin patch, and cider mill. Where else can you can eat delicious cider donuts, sticky buns, and blueberry turnovers while picking apples and pumpkins? Plus, visitors say that Boyer's cider and hard cider are some of the best they've ever had.
---
That's it - enjoy! If you liked this post, we appreciate a Facebook, Twitter, Pinterest, and Google+ share! Sharing is caring - click those buttons to the right, CLICK 'EM! -------->