January 19, 2018 by: Heart of the Village Inn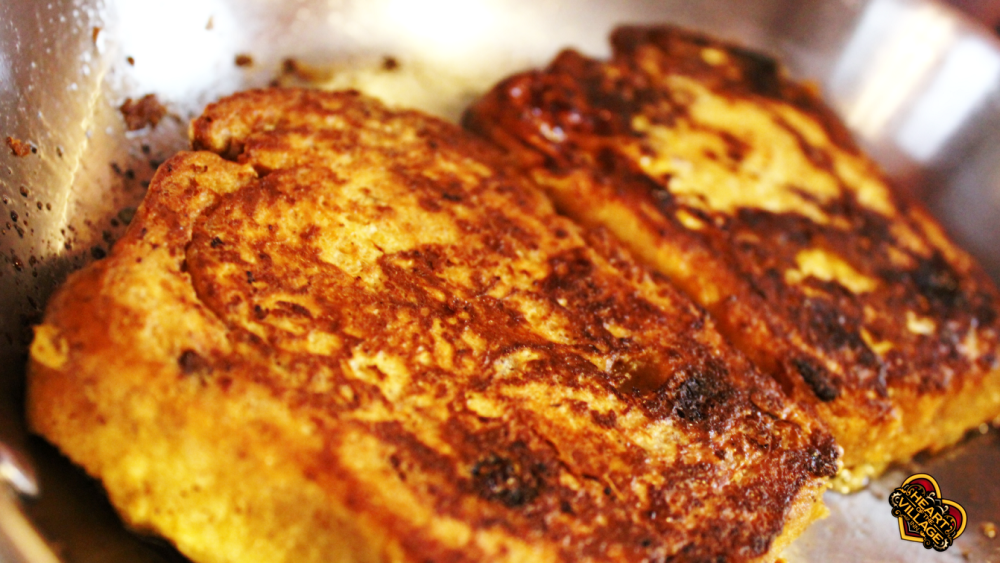 French Toast à la Heart, Ooh La La!
Make Julia Child proud - pour yourselves some Bordeaux, put on your favorite Édith Piaf song, and let's commence!
Our French Toast is yet another popular breakfast choice on our plentiful menu. Folks simply can't get enough of it - a recent guest requested it three times during her 3-day stay. That's saying something!
The actual recipe is very simple, and - like every meal worth making - starts with a high quality bread. O Bread, our local bakery located on the grounds of Shelburne Farms, has the best bread! The Cinnamon Raisin Swirl bread is pure poetry for the palate.
Ingredients (based on one serving of two finger-licking slices):
2 generously cut slices of (ideally) O Bread Cinnamon Raisin Swirl bread (because Vermont!)
1 cup of room temperature low-fat buttermilk
2 eggs
2 tbsp raw sugar
1 tbsp vanilla (Bourbon Vanilla is the best!) Note: use alcohol-free vanilla if making French Toast for anyone under the age of 21
1 dash of ground cinnamon
1 dash of ground ginger
1 dash of ground nutmeg
1/4 stick of unsalted butter
Steps:
Whisk a cup of buttermilk with raw sugar, vanilla, and a mix of ginger, cinnamon and nutmeg. Soak both slices in half of the mix for about 10 minutes per side. Let the bread soak all of that goodness - it needs to stay thirsty for more!
Whisk two eggs (one or both with the whites discarded for a more intense golden color) into the remaining 1/2 cup and coat the slices, again about 10 minutes of soaking in the delicious goodness per side (or longer, if you have the time and want to savor every drop of this goodness!)
In a medium sized pan, melt unsalted butter on low heat to create a happily simmering butter bath. Non-stick surface plus thin wide spatulas complete the picture to allow the toast to maintain its structural integrity.
Turn the heat to medium and the soaked slices can go in for about 5-7 minutes per side. Watch them like a hawk and cook them to your preferred doneness. Slow and low is the name of the game.
Voilà!
Psst! Our French Toast is best enjoyed with Palmer's Real Vermont Maple Syrup - always our own breakfast choice!
---
That's it - enjoy! If you liked this post, we appreciate a Facebook, Twitter, Pinterest, and Google+ share! Sharing is caring - click those buttons to the right, CLICK 'EM! -------->