February 3, 2017 by: Heart of the Village Inn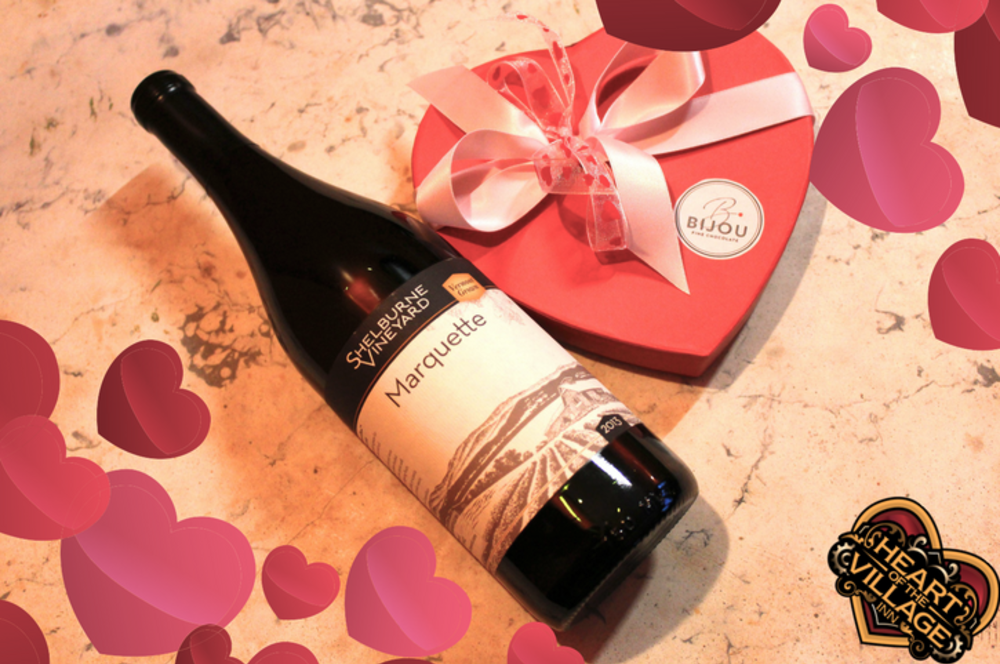 Five Reasons to Enjoy Your Valentine's Day in Shelburne
Wondering what to do for Valentine's Day in Vermont? Here are five reasons to bring your sweetheart to Shelburne, VT.
Minutes from our cozy, romantic Inn, enhanced with a complimentary bottle of wine and a chocolate sampler, these adventures are sure to warm your heart.
1. February Full Moon Sleigh Rides at Shelburne Farms
Friday, Feb. 10, 5:30 PM, 6:05 PM & 6:40 PM
Enjoy a beautiful snowy night at the full moon sleigh ride. It doesn't get much more romantic than "moonlight in Vermont" while gliding through the lovely natural landscapes at Shelburne Farms. Join Pat Palmer of Thornapple Farm and his team of Percheron draft horses for a winter evening of star gazing. Put on your woolies and brave the winter for one of these 30-minute rides, and don't forget to bring a thermos with a warm beverage!
Registration is required. http://www. shelburnefarms.org/calendar/ event/february-full-moon- sleigh-rides
2. Back Stage Pass Collection of Rarely Seen Rock & Roll Photographs at Shelburne Museum
Saturday, Feb. 11 - May 7, Wednesday - Sunday, 10:00 AM - 5:00 PM
Rock and Roll provided the soundtrack to American culture in the late 20th century. This exhibit of more than 300 rarely seen photographs captures the intimate relationship between photographer and musician. Featuring studio portraits and candid outtakes of famous rock and roll stars and jazz greats from Miles Davis, Elvis, The Beatles, to David Bowie, Prince, The Beastie Boys and more.
https://shelburnemuseum.org/ exhibitions/upcoming
3. Date Night: Table-Side Cooking at Chef Contos Kitchen & Store
Saturday, Feb. 11, 5:30 PM - 7:30 PM
Table-side cooking is romantic and elegant, and develops impressive skills for home entertaining! Join us as we toss, sauté, and flambé our way through this delicious evening. We are excited to recreate the dishes of Chef Contos' childhood from her family's restaurant, Chez Paul.
Call 802-497-3942 to get on the wait list. $150 per couple. BYOB.
http://chefcontos.com
4. Valentine's Wine and Chocolate Weekend at Shelburne Vineyard
Saturday & Sunday Feb. 11 & 12, 11:00 AM - 5:00 PM
Wine tastings paired with a different Shelburne confectioner each day! On Saturday, Douglas Sweets will share free samples of their sweet and savory (and chocolaty) shortbread treats paired with our Shelburne Vineyard wines. On Sunday, Bijou Fine Chocolates will sample their artisan chocolates and special truffles paired or prepared with our wines. Both Douglas Sweets and Bijou will be here with their products available for sale.
No reservations necessary.
http://www.shelburnevineyard. com/events-calendar/?view= calendar&month=February-2017
5. Valentine's Day Five Course Dinner at Rustic Roots
Tuesday, Feb. 14, 6:00 PM - 7:30 PM
Enjoy a very special prix-fixe menu in an intimate candle-lit dining room, surrounded by Valentine's Day themed work of local artists featured in The Heart Show. Book your table today!
Reservations only. Tax and gratuity not included. Five courses for $150 per couple, paired with wines for $200.
Also, check out the "Heart Show" on their website. Over 70 artists created heart-shaped artwork for this show, benefitting Spectrum Youth & Family Services. Through 2/13/2017, bid on your favorite piece online and a portion of each heart sale goes to making sure youth have a roof over their heads, warm food every day, coaching on life skills, and support as they build bright futures for themselves.
http://www.rusticrootsvt.com/valentinesday
6. (Yes, we know, we did say "Five". As in "At Least Five!") Valentine's Day Goodies at Shelburne Country Store
Daily, 10:00 AM - 5:00 PM
Valentines' candy, Red Velvet Cheesecake fudge, gifts, and more!
http://www.shelburnecountrystore.com/valentines-day/
7. Valentine's Day Gifts & Fine Jewelry at Matthew Taylor Designs
Tuesday through Saturday, 10:00 AM - 5:00 PM
Custom crafted fine jewelry and other artisanal Valentines' gifts!
http://www.matthewtaylordesigns.net/
BUT WAIT, THERE'S MORE! Did you and your partner bond over craft beer? As a day trip idea, check out Burlington's first Winter Brewfest with music by The Grift in the evening! Saturday, Feb. 11, afternoon and evening. Tickets for $39.
http://winterbrewfestvt.com/
And, of course, stay at our lovely Heart of the Village Inn and enjoy a complimentary bottle of Shelburne Vineyard wine and a Bijou Fine Chocolate sampler.
http://www.heartofthevillage.com/offers#seasonal-specials