August 31, 2017 by: Heart of the Village Inn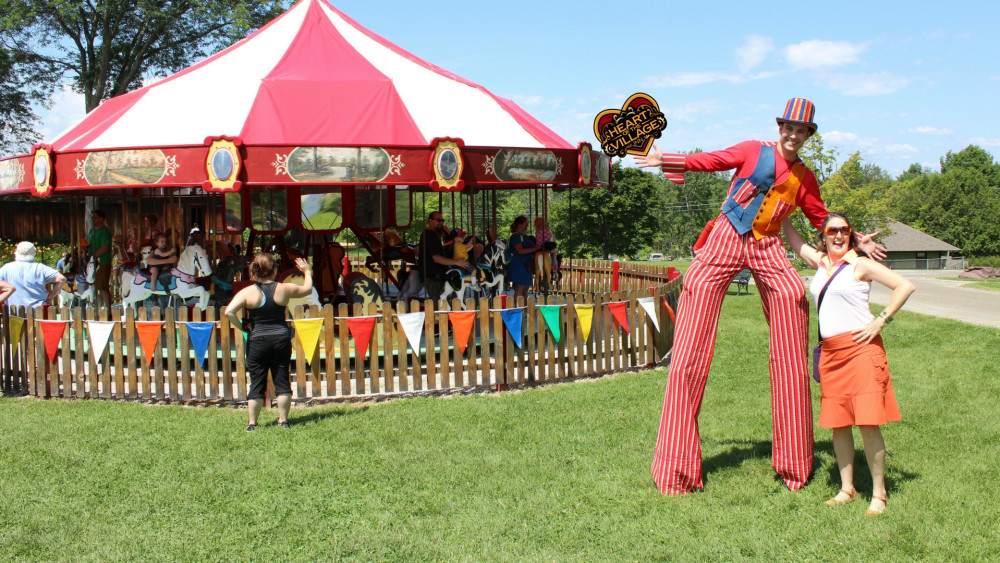 Five Fun Things to Do in Shelburne This Fall
Are you considering a romantic weekend in Vermont? Maybe you're packing the entire family up to enjoy a week-long vacation near Burlington, VT and you've decided to head to Shelburne. You are in luck - you've found a gem. Now, it's time to plan your visit. Take a look at our top-five fun things to do in Shelburne this fall to help kickstart your upcoming trip.
1. Shelburne Museum
Whether you're looking to enjoy French Impressionist paintings, analyze American folk art or bask in the beauty of historic New England architecture, Shelburne Museum offers a place perfectly suited for exploration and discovery.
This beautiful museum sprawls across acres and acres of lush Vermont landscape and features luscious gardens, thirty-nine distinct structures and 80,000 items of folk art and similar works. Fascinating, whimsical and delightful for an afternoon spent with your significant other, family or even friends visiting Shelburne, this museum is located just up the street from our Inn and is the ideal spot to spend a warm spring afternoon or crisp autumn weekend.
2. Shelburne Farms
This National Historic Landmark is a non-profit that educates guests and local residents about sustainability, is situated perfectly on a 1,400-acre farm nestled on the shores of Lake Champlain a quick 2 mile drive from our B&B. Shelburne Farms offer year-round walking trails, property tours and a children's farmyard that operates from mid-May to mid-October.
Aside from the beautiful landscaping and fun activities, Shelburne Farms is worth the stay purely for the charitable aspect. As they note on their website, "We care about the sustainability and quality of life on earth. We care about young people having hope for the future. We believe that sustainability is grounded in individual awareness and action in our own communities."
3. Shelburne Vineyard
This one tops our list for the best couple outing, as you can enjoy learning a little bit about wine-making history together before taking in a beautiful Vermont sunset on a porch overlooking the entire vineyard while enjoying wine and cheese.
To get to Shelburne Vineyard's sustainably grown vineyard and winery, which is known for its award-winning wines and special tasting room experience, you'll want to take Route 7. The vineyard is located just one mile south of the Heart and offers a warm and friendly atmosphere along with world-class wine, tours of the vineyard and hours of relaxation time on the patio or loft. (Of note, Folino's Wood Fired Pizza, a popular local craft pizza BYOB restaurant, and Fiddlehead Brewing Company, serving up samples and growlers of their ever-so-popular IPAs, share a big red as-Vermont-as-it-gets barn right across the road from the Vineyard.)
4. Shelburne Orchards
Making our list for the best family spot in Shelburne, this is a must-do when in need of family fun. The entire brood can enjoy picking apples, basking in the sunshine and roaming the lush landscaping that surrounds the orchards.
We especially suggest visiting in the fall, as their apple cider and cider doughnuts are something you can't miss. Enjoy your cider while taking in the stunning view of Champlain and the mountains of Vermont while enjoying the fact that this orchard is ecologically friendly and reasonably priced.
5. Fall Foliage and General Sightseeing
We've put this all together in one point because Shelburne offers too much foliage-draped scenery during the fall to be able to choose just one. We recommend spending a relaxing day on the shores of Lake Champlain before touring the Green Mountain State's scenic roads, enjoying downtown Burlington, or taking the kids to the Vermont Teddy Bear Factory.
Regardless of how you decide to spend your time in Shelburne, know that you'll always have a home at our Heart of the Village Inn, which is ranked the #1 B&B in Shelburne on TripAdvisor. We welcome you with open arms this fall to our inn's warm and inviting atmosphere.
Our guests enjoy a special discounted admission to Shelburne Museum (valid for two days!), as well as a complimentary wine tasting at Shelburne Vineyard - contact us for details!
Happy Planning!
That's it! We hope you found at least one idea here that inspired you. Cheers!
The post Five Fun Things to Do in Shelburne This Fall appeared first on the Heart of the Village Inn's blog. If you like the post, we'd appreciate a share on Facebook and Google+! Thank You!
Rose and Anatoly
Innkeepers At Heart & Proprietors
Heart of The Village Inn
5347 Shelburne Rd
Shelburne, VT 05482