January 5, 2018 by: Heart of the Village Inn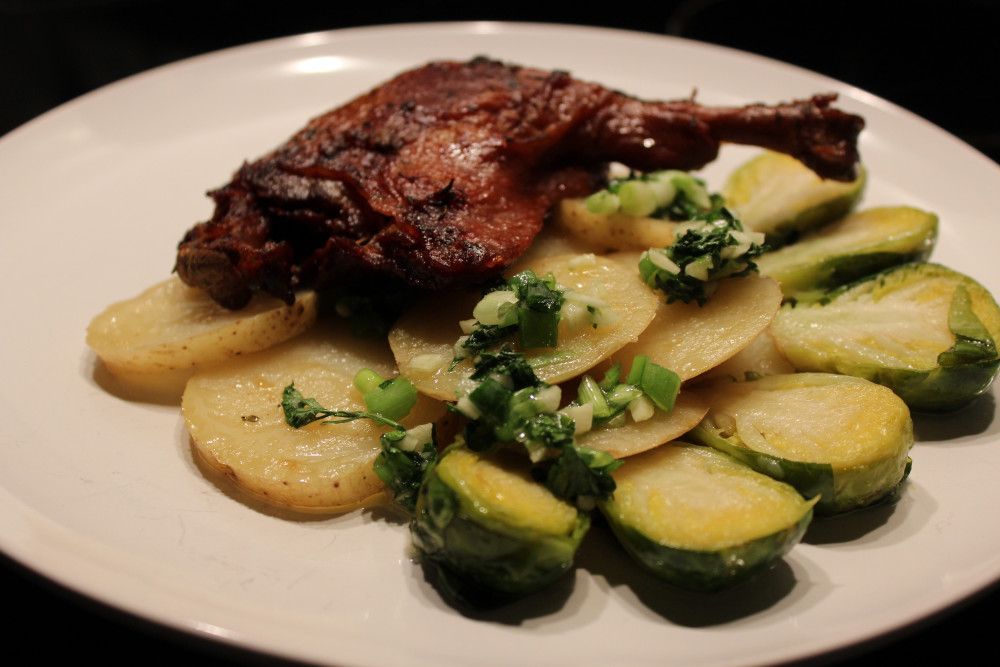 Duck Confit à la Heart (Vermont Style) with Pommes de Terre (Potatoes) Sarladaises
Welcome to our new weekly blog post series dedicated to mouthwatering recipes! While we do not offer lunches or dinners at our top rated Vermont Bed & Breakfast, we figured we'd add our favorite gourmet lunch and dinner recipes to keep things interesting.
As modern 21st century innkeepers, we love to cook well and we love being efficient. Accomplishing more with less is one of our mottoes - today we'll show you that Duck Confit and Potatoes Sarladaise do not need to take two days to make and can be cooked to perfection in a matter of 2-4 hours. Even better, this recipe is flexible enough to allow other ingredients, such as chicken, goose, turkey, yams, beets, carrots, etc. Let your imagination run wild - impress your Valentine's date or party guests with these dinner ideas!
Ingredients (based on a dinner for 2):
2 duck leg quarters (or: turkey, goose, chicken, pheasant, parrot - whatever it is you are craving)
4 medium potatoes (or: yams, beets, carrots, anything that can be cut into 1/4" medallions)
2 oranges
3 cups of vegetable oil
1/4 cup of olive oil
4 twigs of fresh thyme or (4 table spoons of dried thyme)
1 small bunch of fresh parsley (and/or: oregano, dill, scallions)
2 (or more) cloves of garlic
8 tablespoons of coarse salt (sea salt, lake salt, river salt, street puddle salt - doesn't matter as long as it's coarse)
4 tablespoons of maple sugar (because Vermont!)
1 glass of cognac (or more as needed for self or for the recipe)
Cooking steps:
In a medium pot, generously cover leg quarters with sea salt and let them sit in the salt rub an hour or two. Hint: add 2 twigs of fresh thyme or 2 tablespoons of dried thyme into the rub for additional flavor. (Duck is a fairly fatty bird, and stewing it for a while may cause the meat to overcook and fall off the bone. Coarse sea salt allows the meat to marinade a bit, but more importantly to drain excess liquids from the meat so it keeps its shape.)
Cut both oranges in half. Rinse the same pot and the leg quarters (or briefly soak them if they sat in salt for more than 2 hours) in cold water and yin and yang them at the bottom of the pot. Arrange orange halves in between or on top of the duck legs and cover them with vegetable oil. Work in maple sugar (do not use syrup, bad things will happen) and the remaining thyme and let the pot get to a happy simmer on a stove top using a medium setting - shouldn't take more than 10 minutes. Reduce heat to low and simmer the happy bunch for 2-3 hours depending on your preference. Use cognac as you please - but remember, you still have a few steps left ;)
In the meantime, slice potatoes into medallions and let them sit in cold water). Dice fresh herbs and garlic with a pinch of fine salt and mix in a bit of vegetable or olive oil.
As the duck legs near their doneness (two hours is plenty of time, unless you would like them to soak in ALL the orange flavors and brown a bit in the pot), layer the potato medallions horizontally in a smaller pot mixed with a touch of salt and add the duck fat / thyme / orange infused vegetable oil to cover the potatoes. Medium heat for 15-20 minutes will be plenty, but be vigilant and do a taste test here and there.
This is the best time to transfer the legs onto a medium pan and finish them off on medium heat just the way you like them - lightly browned or semi-golden and crispy.
Arrange potatoes on a plate and sprinkle garlicky herbs to taste. Crown them with a Duck Confit leg of your own making and get ready for the compliments.
That's it - enjoy! If you liked this post, we appreciate a Facebook, Twitter, Pinterest, and/or Google+ share - click those buttons to the right, CLICK 'EM! -------->
P.S. No Rubber Duckies were hurt in the making of this post.
P.P.S. Come back next Friday for our fingerlicking Buttermilk Blueberry Pancake recipe!