March 9, 2018 by: Heart of the Village Inn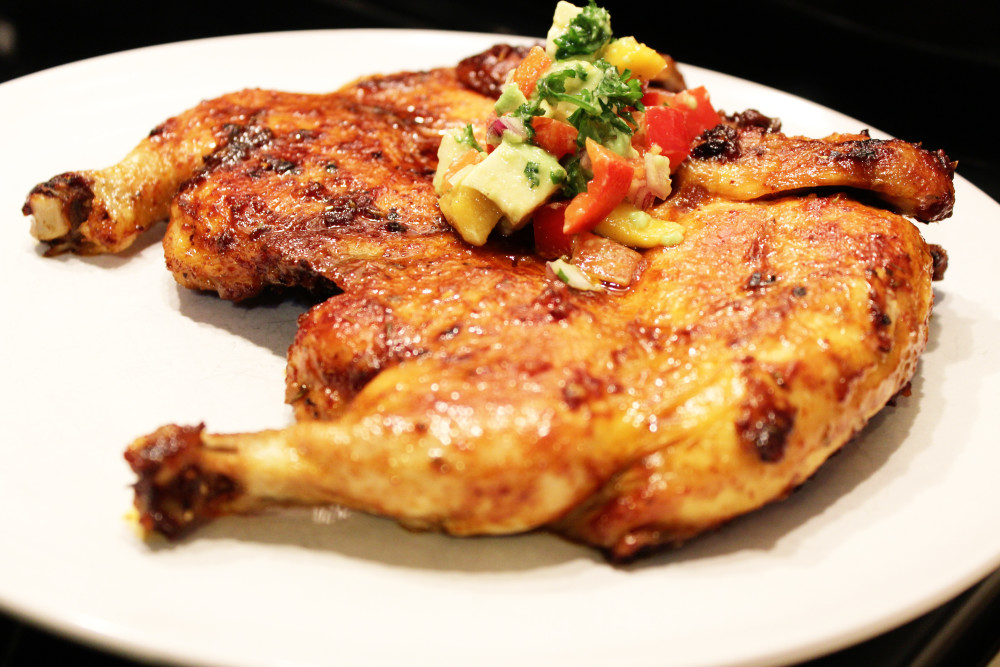 Chicken Under The Influence
It's Friday afternoon, and if you are not going out tonight, you'll need to make dinner plans. This easy recipe comes to you all the way from Georgia. You know, the Old World Georgia, not the Peach State (even though Gainesville is the Chicken Capital of the World.)
We'll cook the chicken using the influence of gravity and pressure (cue Queen's hit if you wish!), but a little bit of white wine or brandy will benefit the chef and those in attendance. Bonus points for being a great leader and delegating the salad and pasta/rice/potatoes/couscous cooking task to the rest of your team in the meantime.
Ingredients:
1 young chicken (or a Cornish hen)
Dry spices of choice
your favorite BBQ sauce
minimum 6 cloves of garlic
salt
vegetable oil
butter
Steps:
Split the chicken apart along the sternum and lay it down flat on a large cutting board
If the bird is rigid and certain joints are popping up, use a mallet to flatten the bird
Rub some salt any and all spices (black pepper, red pepper, herbs de provence, jerk seasoning, etc.) onto the chicken, being especially generous with leg quarters and breasts
Pour a 1/4 cup vegetable oil in a cast iron or a stainless steel pan (the pan's diameter should be able to handle the entire flattened bird) and set the burner to medium-low. Add 4-6 tbsps butter.
Fill a large pot with water - it should be able to stand on the chicken and be heavy enough to provide continuous and stable pressure.
The rest is easy - place the back side of the chicken on the pan and set the pot on top of the bird. Be careful not to let any water spill into the pan - hot oil splashes hurt and they are messy. Keep a large plate handy so you could place the pot on it while flipping the bird.
Depending on your setup, it may only take 5-10 minutes for the chicken to start developing crispy golden skin. Move the pot aside, use a flat wide metal spatula and tongs to carefully remove the chicken from the pan and place the bird back on its other side. We would recommend wiping the bottom of the pot the first time as it was sitting on top of raw meat. Firmly place the pot back onto the bird. The whole process will need to be repeated once more per side, and you may need to adjust the heat to low as needed. The chicken should be tender yet well cooked on the inside - it should look nicely browned and crispy on the outside.
In a medium bowl, mix 1/2 cup BBQ sauce with freshly crushed garlic. Transfer half of the mix on the bird's back side and place it back into the pan for just a couple of minutes. Continue using the pot to apply the pressure. Then place the remaining mix on both sides of the bird and place into the pan belly down one last time.
Ta-da! Enjoy!
---
That's it - enjoy! If you liked this post, we appreciate a Facebook, Twitter, Pinterest, and Google+ share! Sharing is caring - click those buttons to the right, CLICK 'EM! -------->