March 19, 2017 by: Heart of the Village Inn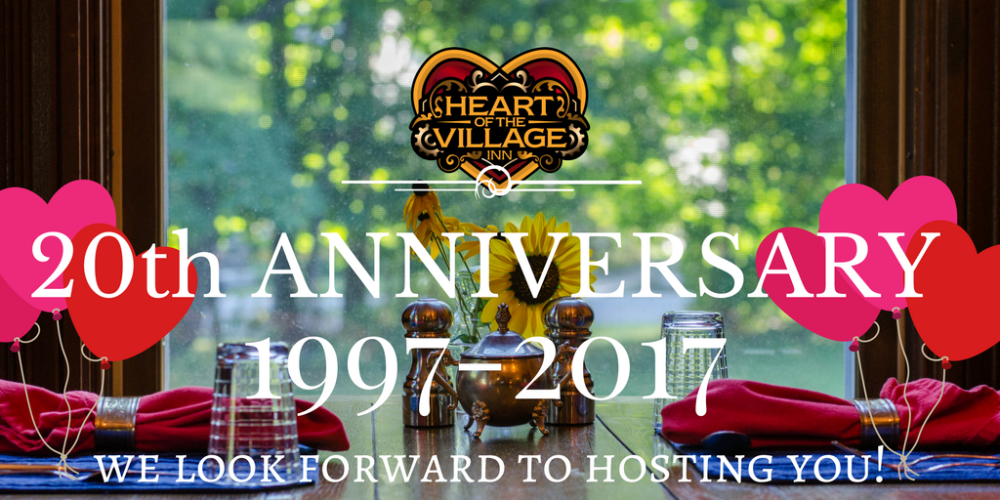 Celebrate Heart of the Village Inn's 20th Anniversary With Us!
This year marks the 20th anniversary of Heart of the Village Inn, one of the most remarkable businesses and the #1 Bed & Breakfast in Shelburne, VT. A long-time private residence of several prominent Shelburne families, it first opened its doors to the traveling public in 1997 and has been successfully managed by several proprietors.
The Inn, as we know it today, is a subtle balance of timeless traditions and tasteful touches of modern times and aims to create memorable and delightful experiences. Rose and Anatoly, proprietors since early 2015, have just celebrated their 2 years of Inn ownership and invite you to join them this year and offer a variety of guest-centric offerings.
As a way to bridge their 2nd Inn-iversary and a nod to the 20th anniversary of the Inn, we offer a 20% promotional discount for stays of 2 nights or longer through the end of 2017. This offer is valid for the next 22 days and, like any other offers, must be booked online directly on our website. But hurry! This offer will turn into a pumpkin at 22:00 hours (that's 10:00 pm) Eastern Time April 10, 2017. This promotion cannot be combined with any other offer.
Black-out dates include all major US Federal Holidays, college events, Fall Foliage, etc. apply.
We look forward to hosting you!