February 2, 2018 by: Heart of the Village Inn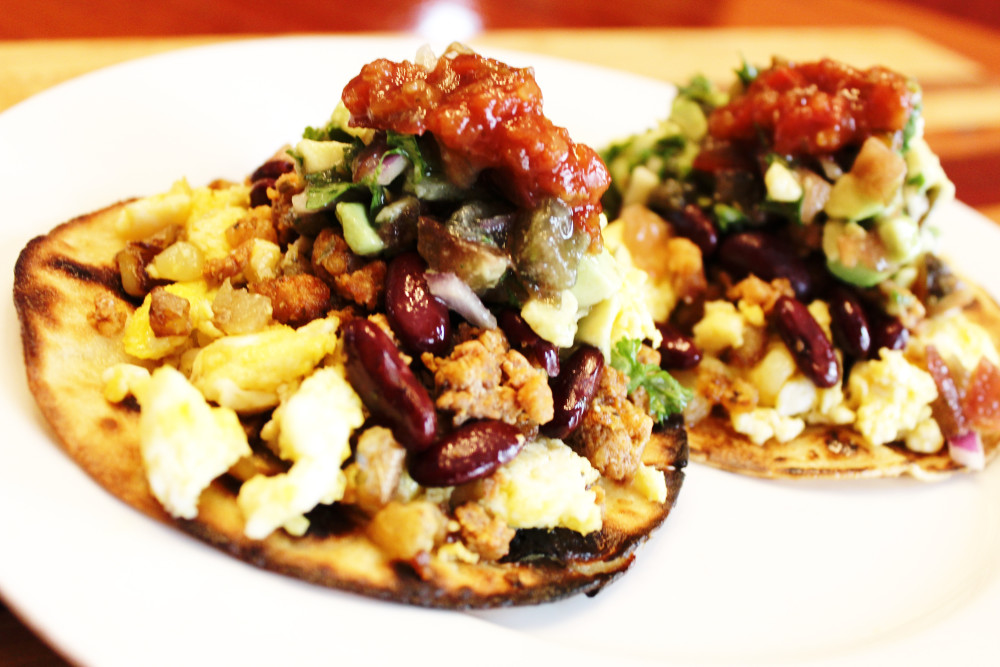 Breakfast Tacos Northeast Meets Southwest Style
Who said tacos are for Tuesday lunches only? Live a little, enjoy yourselves breakfast tacos any day of the week! They are so easy to make - so go ahead and make them at home tomorrow morning! (Psst! Make them for your Valentine, too!)
As unusual as it may sound, Vermont is where Northeast meets Southwest and Southwest meets Northeast. We grow corn, we got beans, we know spicy! Are you ready for our NEXSW/SWXNE tacos? Onwards!
Ingredients:
6 warmed corn tortillas - we recommend the ones made by VT Tortilla, because Vermont!
2 chorizo sausage links by Vermont Salumi (or 4 slices of roasted bacon, or not even - if meatless is your thing)
4 large eggs
1 can of red or black beans
1 bunch scallions
1 small red onion
1 fresh lime
1 medium red tomato
1 small bunch of cilantro or parsley
1 medium new white potato (or 1 small sweet potato, yams yams yammy!) diced into 1/2" cubes
1 ripe avocado
Vegetable oil
Salt, coarse black pepper, dried oregano or herbs de provence, and crushed red pepper as needed to taste
Paper towels for extra fiber (just kidding, but you'll need them to remove any excess moisture/fat before/after cooking)
Steps:
0. If you have to have bacon, so be it! We are assuming you know your way around the kitchen, but either way - we recommend roasting it at 375 F for about 30-45 minutes (depending on the thickness of the slices and your crispiness preference). Keep an eye on it and don't let it overcook. We are not big fans of frying bacon or reusing bacon fat, so it's up to you whether you'd like to make bacon well in advance to have access to that pork fat goodness. Once bacon is cooked and you are ready to assemble the tacos, it's up to you whether you want to use bacon spears or bits.
1. Prep Pico de Gallo (triple-score word for your next Scrabble battle!). Dice tomatoes, cilantro, red onions, scallions, avocados and onions, add a touch of salt, pepper and a healthy squeeze of lime juice in a bowl, and let it all chill for the time being.
2. Preheat vegetable oil in a large frying pan (low-medium heat is fine). Remove the casings from the chorizos and break the sausages into chunks, drain and pat-dry the beans, and stir the mix until browned for about 10 minutes. Use a slotted spoon/spatula to transfer beans and chorizo onto paper towels to drain (do not pour off fat from skillet).
3. Add diced potatoes/yams to the pan, season them with dried herbs, salt and pepper, and stir-fry them until they develop that magical golden brown crispy for about 10-15 minutes. (Cooking time may vary!) Using that same slotted spoon (boy, is it getting lots of attention today!), transfer the taters onto paper towels and let them rest.
4. Eggs are amazing. You can scramble them, you can make them over easy, you can poach them, you decide.
5. Getting closer! Load warmed tortillas with all of the above goodness and get ready for compliments!
---
That's it - enjoy! If you liked this post, we appreciate a Facebook, Twitter, Pinterest, and Google+ share! Sharing is caring - click those buttons to the right, CLICK 'EM! -------->